Neko Atsume Is Being Made Into A Live-Action Movie And We're Legit Hyperventilating
9 November 2016, 12:25 | Updated: 8 May 2017, 17:09
FINALLY SOME GOOD NEWS!
2016 has been nothing but misery and despair but here's some news that will prove there's a light at the end of the tunnel…
Remember your old favourite game Neko Atsume? You know, the Japanese cat collecting game that took over the world late last year? If you DO remember it, chances are you probably haven't opened the app in about 6 months, have you? Sick and tired of Tubbs the cat eating all your damn Sashimi and what not!
If you don't remember it, or have never played it, let us give you a quick reminder: the game basically involved you buying food, toys and furniture to lure cats into your garden. The aim of the game was to collect and document as many of them as you could before they left your house altogether. Yeah, it was really that simple. And so damn addictive.

Well, in news that might make some of you crack a damn smile today, there is currently a Neko Atsume live-action film in the pipeline. YES. REALLY.
The film is set to be produced by a company in Japan and the plot will focus on a struggling writer who finds a stray cat outside, decides to nurture it and give it some food which ultimately ends up prompting a sh*t ton of cats to show up at his house - some domesticated and some fancy AF. (Heeellloooooooo Lady Meow-Meow!)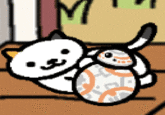 No word yet on whether the cats will have voices but we're gonna need at least two of them to be voiced by Meryl Streep and Denzel Washington to ensure this masterpiece gets nominated for a couple of Oscars.
OMG, who will be the voice of the villainous Tubbs?! Let us know in the comments!