Every Netflix show cancelled or ending in 2023 (so far)
5 June 2023, 16:59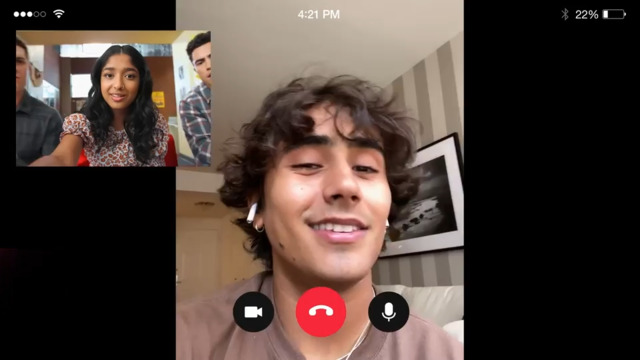 Michael Cimino joins the cast of Never Have I Ever season 4
From The Umbrella Academy and The Crown to everything else in between, here's all the Netflix shows that will be ending in 2023.
And so it begins again. Netflix giveth, and Netflix taketh away. And 2023 already looks like it's shaping up to be a bumper year for some of our favourite TV shows – both airing, and ending.
While 2023 will see the return of fan-favourite Netflix shows like Outer Banks, You and Heartstopper, we'll also sadly be saying goodbye to a handful of huge titles that will be airing their final seasons in the coming months. (The Crown? Never Have I Ever? The Umbrella Academy!?)
On top of that, there'll no doubt be plenty of gone-too-soon cancellation casualties along the way. In fact, Netflix have already announced that one show will not be returning for a second season.
Here's all the shows that have been cancelled by Netflix in 2023 (so far), and the shows that will be airing their final episodes on the streamer this year.
What shows have been cancelled by Netflix in 2023?
All the shows cancelled by Netflix in 2023
1) 1899
The first show to fall victim to Netflix's 'One Season Curse' in 2023 was the multilingual mystery thriller series 1899. Despite fairly positive reviews and reaching the streamer's Top 10 charts shortly after its November 2022 release date, the show was not renewed for a second season.
Responding to the cancellation news, bo Odar wrote: "With a heavy heart we have to tell you that 1899 will not be renewed. We would have loved to finish this incredible journey with a 2nd and 3rd season as we did with Dark. But sometimes things don't turn out the way you planned."
2) Inside Job
In January, Netflix quietly cancelled the animated comedy after just one season. The show's cancellation was confirmed by creator Shion Takeuchi, who tweeted: "I'm heartbroken to confirm that Netflix has decided to cancel Season 2 of Inside Job. Over the years, these characters have become real people to me, and I am devastated not to be able to watch them grow up."
She added: "To everyone who watched, thank you for coming along on the ride. Even though I'm sad, it helps to now that there's people out there who cared just as much about these characters as me."
3) Dead End: Paranormal Park
Netflix cancelled animated series Dead End: Paranormal Park in January after two seasons. In a statement, creator Hamish Steele said: "Obviously we never wanted this to be the case. In fact, we did a writers room for Season 3. We have scripts and designs and outlines ready to go. It was always the plan to give these characters the proper ending they deserve. But sadly, the powers that be don't want any more."
Thankfully, Steele plans to write a third and final graphic novel to wrap up the story for fans.
4) Uncoupled
After just one season, Netflix cancelled the Neil Patrick Harris-led series in January 2023. The charming rom-com series only consisted of eight episodes, and was likely cancelled due to its performance. Uncoupled popped up in the Top 10 during its week of release in July 2022, and dropped out pretty soon after.
5) The Chair
Cancelling a show led by Sandra Oh? Rude! But unfortunately, The Chair has indeed got the chop and will not be returning for a second season. In January, co-creator Amanda Peet confirmed the cancellation of the series at the TCAs, saying: "We weren't picked up. Sandra and I wish we had been."
6) Sex/Life
One month after season 2 was released on Netflix, the Sarah Shahi-led series was cancelled. A few days before the news was confirmed, Sarah slammed the series, saying "did not have the support that I did in the first season from the people involved in the show."
7) Freeridge
Sadly, it was a short-lived one-season outing for the On My Block spin-off series. In April, just two months after its debut on the platform, Rolling Stone reported that the series would not be returning for a second season, despite the positive reviews. And of course, the series ended on a cliffhanger so fans were obviously devastated that they would not longer be getting answers.
8) Bling Empire
How are we meant to go on without Anna, Christine, Kane, Kevin and the rest of the Bling Empire cast?! The reality series, that followed the lives of our fave group of insanely rich Asians Americans in Beverly Hills, was cancelled after three seasons in April 2023. Bling Empire: New York was also cancelled after just one season at the same time.
9) Rebelde
In May 2023, Netflix cancelled the reboot of the iconic Mexican series after two seasons. Actor Sergio Mayer Mori confirmed the news during an interview with Hola Mexico: "It would be an honour for me to be able to do a third, fourth, and fifth [season of Rebelde], but that was no longer possible. It was Netflix. The producers told us, 'Thanks for everything guys. But a third season is no longer happening.'"
10) Lockwood & Co
After just one season, the supernatural YA series was cancelled in May 2023. According to Variety, Netflix were reportedly pleased with the show (which made an appearance in the streamer's Top 10 charts shortly after it was released) but viewing numbers apparently didn't meet the threshold to green-light a second season. The loyal, vocal fanbase have been sharing their disappointment on Netflix ever since.
READ MORE: Lockwood & Co. cast interview each other | PopBuzz Meets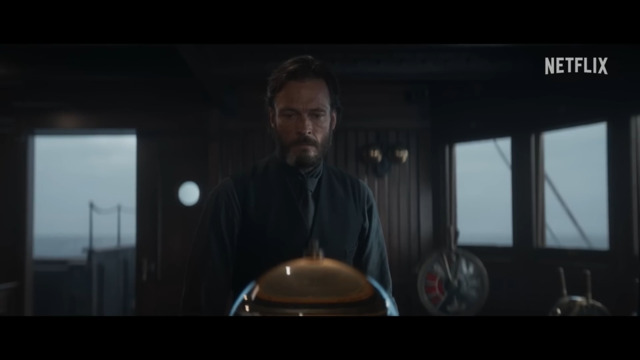 Watch Netflix's official 1899 trailer
All the shows renewed for final seasons at Netflix in 2023.
You
While it's a loss for fans of the series, Joe Goldberg's villainous escapades had to come to an end at some point. Shortly after the release of You season 4, Netflix confirmed that season 5 will be the final outing for Penn Badgley's serial killer.
In March 2023, the official You account tweeted: "Goodbye... YOU. Joe Goldberg will return for the fifth and final season of YOU in 2024."
Speaking on the TV's Top Five podcast about season 5, You showrunner Sera Gamble expanded on why the show is ending: "It was never anyone's intention to just run this one into the ground. When we're done, we'll be done. We'll pack it up and it will exist on Netflix for everyone to enjoy. Even in the early conversations with Penn Badgley, the idea is not to just crank out episodes forever - it's to feel like we have told the complete story."
Cobra Kai
Good news: Cobra Kai has been renewed for a sixth season. Bad news: It'll be the last one. The Karate Kid spin-off series will be coming to an end, thankfully on its own terms.
"Our day one goal with 'Cobra Kai' has always been to end it on our terms, leaving the Valley in the time and place we've always imagined. So it is with immense pride and thankfulness that we are able to announce that achievement," creators Josh Heald, Jon Hurwitz and Hayden Schlossberg in a statement.
"The upcoming Season Six will mark the conclusion of 'Cobra Kai.' While this may be a bittersweet day for the fandom, the Miyagiverse has never been stronger. This fandom is the BEST on the planet and we hope to be telling more 'Karate Kid' stories with you down the line. Because as we all know, Cobra Kai Never Dies."
Mo
In January 2023, it was confirmed that the comedy series created by Mohammed "Mo" Amer and Ramy Youssef had been renewed for a second and final season. No word yet on when Mo's final episodes will air.
Mo is one of the best reviewed Netflix Originals and has picked up a handful of awards, too. In a statement, Mo Amer said: "I'm thankful to continue to tell a universal story of struggle that relates to so many refugees and millions of under-represented humans trying to be seen around the globe and to be able to bring the people who loved and rooted for Mo Najjar along for the ride as we close this chapter of his story."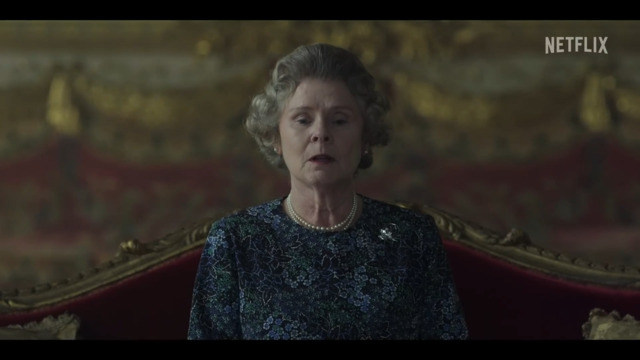 Watch the trailer for The Crown season 5
All the shows ending on Netflix in 2023
The Crown
While casual viewers of The Crown are hoping the series catches up to real time events, including those involving Prince Harry and Meghan Markle, the "fictional dramatisation" about the British Royal Family will be coming to an end in 2023. Season 6, which is set to air at some point later this year, will pick up in 1997 and will include Princess Diana's tragic death. It's expected to follow the Queen into the 2000's, but it's yet to be revealed what year the show will finally wrap up.
Never Have I Ever
All good things must come to an end, and that also goes for our favourite Netflix teen series too. Back in April 2022, it was confirmed that Never Have I Ever season 4 would be the final season we get to spend with Maitreyi Ramakrishnan's Devi. Explaining why the show had to come to an end, co-creator Mindy Kaling told EW: "Four seasons for a high school show felt like it made sense. They can't be in high school forever. We've seen those shows...Also, the actors get older and it starts looking insane that a 34-year-old is playing a 15-year-old."
Never Have I Ever season 4 will be released on June 8th.
The Umbrella Academy
Sadly, The Umbrella Academy's final season is upon us – and it'll be much shorter than the previous three, too. Confirmed by showrunner Steve Blackman, season 4 of the superhero series will be its last and will only consist of 6 episodes rather than the usual 10.
Filming is almost ready to begin on The Umbrella Academy season 4, so fans could expect to see the final instalment at some point towards the end of 2023 – or maybe even early 2024.
Young Royals
After three seasons, the Swedish teen drama will sadly be coming to an end, and while it's not yet been confirmed that the third and final season will be released in 2023, it's looking likely that fans will say goodbye to Simon and Wilhelm this year. Based on the 2021 and 2022 release dates of seasons 1 and 2, season 3 will probably air at some point in late 2023.
Firefly Lane
In October 2022, it was confirmed that the Katherine Heigl and Sarah Chalke series would be coming to an end after just two seasons. The second season, however, would be getting the super-size split season treatment. The first 8 episodes of the 16-episode final season aired in December 2022, and the second part is set to be released on June 8th 2023.
Manifest
After resurrecting the show for one final season after it was cancelled at NBC, Netflix will air Part 2 of the final season of Manifest this year. The first 10 episodes dropped in November 2022, and the final 10 episodes of the mystery thriller series dropped in June 2023.
BONUS: Riverdale
Riverdale is not actually a Netflix series, but seeing as Netflix distributes the show to international audiences after it's aired on The CW in the U.S., it still counts. Riverdale will air its seventh and final (!) season in 2023. It'll premiere on The CW at some point in Spring 2023 (or mid-season), and then later drop weekly episodes on Netflix for international viewers to watch as usual. It's unclear how many episodes season 7 will contain, but it's likely that the final episode of the long-running series will air in 2023.
Queen Charlotte's India Amarteifio & Corey Mylchreest Interview Each Other | Bridgerton