BREAKING: Netflix Now Lets You Download And Watch Your Fave Shows Offline
30 November 2016, 15:44 | Updated: 7 November 2017, 16:52
And yes, it works for movies too!
FINALLY! SOME GOOD NEWS IN 2016!
The good sis Netflix has finally answered our prayers and is set to make some of its shows and movies available for users to watch ~offline~. Yes, seriously! We're not lying to you!
Today (Nov 30.) the streaming service announced their new worldwide offline playback service for absolutely no extra cost on your existing account.
via giphy.com
Currently, the selections available for download RIGHT NOW include many of Netflix's original programmes. Stranger Things, House of Cards, Narcos and Orange Is The New Black are all included in the service along with a few ICONIC shows from other networks such as Breaking Bad. whole bunch of random movies are also included in the service too and there's even MORE selections on the way.
All you've gotta do to use the service is make sure your app is completely up to date, then "click the download button on the details page for a film or TV series and you can watch it later without an internet connection."
The new feature is included in all plans and available for phones and tablets on Android and iOS.
Thanks Netflix, our commutes are about to be LIT!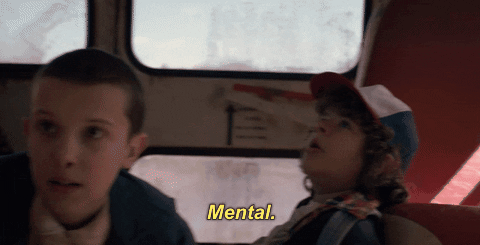 via giphy.com
___ ___ ___ ___ ___
Catch Pierce The Veil on the #PopBuzzPodcast right now. Subscribe for free on iTunes to get new episodes sent straight to your phone every Wednesday.