Netflix viewers are 'horrified' over pillow scene in new Obsession series
20 April 2023, 12:33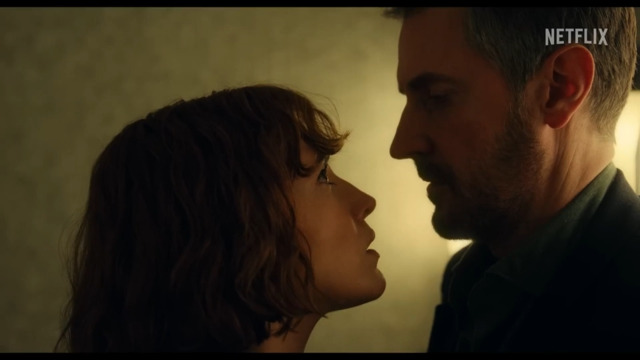 Watch the trailer for Netflix's erotic drama Obsession
Netflix UK have even issued a warning to viewers who are – for some reason – watching the show with their parents.
Netflix's latest erotic drama thriller series has gone viral thanks to an unintentionally hilarious scene involving a grown man having sex with a pillow. (Yes, you read that correctly.)
Obsession is a four episode mini-series based on the 1991 novel Damage by Josephine Hart. It stars Richard Armitage as William, a surgeon who begins an affair with his son Jay's fiancée Anna, played by Charlie Murphy.
Both the critic and audience reviews are...not great, but that hasn't stopped people from tuning in to see just how steamy the show actually is.
While there's a few pretty explicit sex scenes, there's also an absolutely wild scene that takes place in a Parisian hotel, involving William masturbating into a pillow because it smells like Anna.
Viewers are now wishing they could unsee the entire thing, and are vowing to never sleep on hotel pillows ever again.
The scene in question takes place in episode 2, around 25 minutes into the episode. William's obsession with Anna has grown so wildly out of control that he follows Anna and his own son Jay to Paris. He tracks them down at their hotel and later asks the concierge to give him into the room they were staying in.
He then begins frantically stripping the sheets from the bed in search of any trace of Anna, before sniffing the decorative pillows and eventually finding one that smells like her.
Then, dear reader, it gets even more absurd. William begins to masturbate to Anna's scent while holding the pillow to his face. He then flips over, removes his pants and begins having sex with the pillow.
Viewers have now taken to social media to share the reactions to the "unhinged" scene and the tweets are absolutely out of control.
Obsession #Netflix
Fucking hell was not expecting the pillow sniffing wank 😳😂

— Clare Newby (@NewbyClare) April 13, 2023
Me: excited to start a cool, dark, fatal attraction type thriller…..

Also Me: Ends up watching some middle age Englishman shag a pillow…#ObsessionNetflix

— R I L E Y (@_lifeofriley92) April 13, 2023
Netflix UK also jokingly issued viewers with a warning over the explicit scene, writing on Twitter: "If you've made the (questionable) decision to watch Obsession with your parents, these are the moments you'll probably want to excuse yourself."
If you've made the (questionable) decision to watch Obsession with your parents, these are the moments you'll probably want to excuse yourself:

Ep1: 26m14s
Ep2: 00m32s
Ep2: 22m00s
Ep3: 10m15s
Ep3: 25m58s
Ep4: 02m15s

— Netflix UK & Ireland (@NetflixUK) April 16, 2023
While viewers found the pillow humping scene both hilarious and disgusting, actor Richard Armitage has explained that it was not intended to garner that sort of reaction. The original scene was also supposed to involve a tissue, not a hotel pillow.
"I was really conscious that it shouldn't be in any way comedic so we sort of left it quite open and it was a bit of an improvisation actually," he told Metro.
"Charlie had – without me knowing – sprayed her scent that she'd been wearing throughout the shoot into different parts of the bed and I just got the sense of it, and that's where the scene just opened. But the recording it wasn't too planned, actually," he continued.
Read more Netflix news here:
Sabrina Carpenter Breaks Down Her Favourite Lyrics | PopBuzz Meets