Netflix announce new feature that allows you to watch shows faster
3 August 2020, 12:35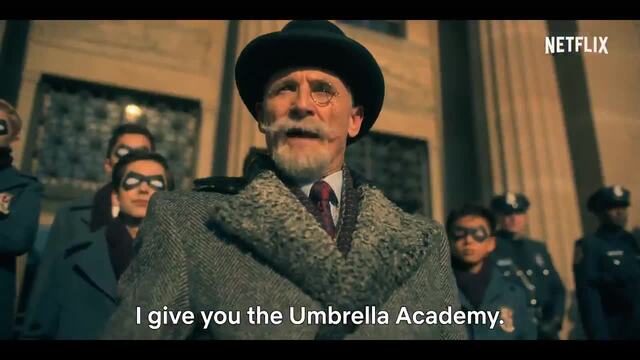 Official trailer for Gerard Way's upcoming Umbrella Academy series on Netflix
You can now watch your favourite Netflix shows up to 1.5 times faster than before.
After the exciting news that Netflix is potentially bringing a shuffle button to the streaming service, Netflix is now allowing its users to choose the speed they want to stream shows on their phone or tablet after being flooded with requests.
If, like us, you're obsessed with binge watching Netflix content (hello, The Kissing Booth 2) but don't necessarily have the time to whizz through a whole season of Umbrella Academy in one sitting then this might be the feature for you.
READ MORE: Here's everything new on Netflix in August 2020
The new playback controls will allow anyone using an Android mobile device to watch their favourite shows at either 0.5x or 0.75x speeds for slower viewing and 1.25x or 1.5x speeds for faster viewing. The feature is already available on most DVD players, while sites like YouTube allow people to slow videos down to 0.25x speeds, or speed up to double the normal playback speed.
The new options are also available on downloaded titles for users who watch shows offline and subscribers must opt in with every single title to use the playback speeds – if you choose something else to watch your selected playback option will not remain active. This means users won't end up accidentally watching everything at 1.5x speed if they don't want to.
Netflix actually started testing the feature back in 2019 and it was met with criticism from Hollywood stars like actor Aaron Paul and directors Brad Bird and Judd Apatow. In October 2019, Judd tweeted: "No @Netflix no. Don't make me have to call every director and show creator on Earth to fight you on this. Save me the time. I will win but it will take a ton of time. Don't fuck with our timing. We give you nice things. Leave them as they were intended to be seen."
A Netflix spokesperson addressed the backlash in a statement to The Verge, which read: "We've also been mindful of the concerns of some creators. It's why we have capped the range of playback speeds and require members to vary the speed each time they watch something new – versus fixing their settings based on the last speed they used."
Although a few Hollywood creatives have been vocal about how they want their work to be enjoyed, both the National Association of the Deaf and the National Federation of the Blind applauded Netflix for the new playback features. Howard A. Rosenblum, CEO of the National Association of the Deaf, said he was "thrilled" at Netflix's decision as slowing down captions to keep in time with the images on-screen can be a great help for deaf people.
Meanwhile, Everette Bacon, a board member on the National Federation of the Blind, said many people in the blind community "can understand and appreciate audio played at a much faster pace than what might be comfortable for most sighted people".
The overwhelming amount of @netflix content is pretty far from being considered "art" nor do many of its creators intend it to be, so easy with the "Get Off My Lawn" crankiness. Have it be part of your negotiation. And never a bad idea to listen to your customers.

— Trace Sheehan (@tracesheehan) October 28, 2019
The feature was introduced on August 1 and will be available to everyone globally in the next few weeks. And if you're not an Android user, don't worry. Netflix will begin testing on iOS devices and the web version of the app soon. However, at present there's no testing phase set for Netflix's TV app.
READ MORE: QUIZ: Only a real Netflix addict can get 8/10 on this quiz
What do you think of Netflix's latest feature? Tweet us @popbuzz and let us know!