Netflix's Too Hot to Handle: Which couples are still together?
20 April 2020, 17:50 | Updated: 11 January 2022, 16:57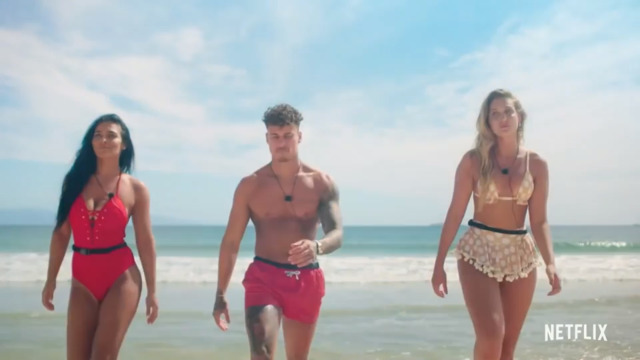 Watch the trailer for Netflix's Too Hot To Handle
Which couples from Too Hot To Handle season 1 are still together?
Too Hot to Handle is as close to a summer romance as we're getting, and we're binge-watching it from our homes as we become fixated for the next few weeks at least on the 14 formerly-single contestants battling it out to find their dream partner and bag a $100,000 prize.
READ MORE: Here are the best Netflix dating shows
With the prize pot at its lowest reaching $43,000 thanks to a few between-the-sheets slip-ups, in the end, it rose back up to a not-too-shabby $75,000. And while the ending wasn't as fans expected (don't worry, we won't spoil it), we've fallen in love with the couples that took part: Harry and Francesca, Rhonda and Sharron and David and Lydia, along with the other contestants that didn't find who they were looking for.
But who made it last on the outside and who was only in it for the money?
Here's where the couples are now...
Rhonda Paul and Sharron Townsend
27-year-old jewellery business owner, Rhonda and 25-year-old Sharron had a tough start to their relationship when they were caught up in a love-triangle, that quickly diminished when Rhonda realised that the wrestling coach was the perfect match that could see past the fact she had a son - something which had affected her previous relationships.
The cute AF duo cost the group $16,000 when they got loved-up in the private suite, but made it worth their while when they became an official couple.
But are they still together?
Well, unfortunately for us, they've kept it on the hush. However, Sharran has reposted hints that they could be an item, including an Instagram story saying that the pair are 'pretty cute together'. They've also been liking each other's pictures on the regular, and we're pretty sure we can expect a couple pic once all the hype has died down.
No spoilers? They're practically doing us a service... we must stan.
Harry Jowsey and Francesca Farago
The consistently clashing pair who cost the group over $20,000 in prize money deductions left the show vowing to move in together in one of their hometowns, and despite their bold personalities leaving viewers divided, it seems like Harry and Francesca may have actually gone the whole way.
Firstly, they both happened to visit the wildlife sanctuary in 23-year-old Harry's homeland Australia, on the same day, and somehow manage to both pose with what we can only imagine is the same kangaroo for Instagram. Coincidence?
Though neither of them tagged each other, there are some seriously similar photos happening here, and we've got to say Francesca, that's one hell of a shot that only an Instagram boyfriend could take. Busted.
And that isn't the first/only time. Just one week later they were both in Canada and caught out again, posing beside the same green Lamborghini, and despite still refusing to confirm their romance, Harry keeps dropping sneaky comments on his beau's Instagram photos. We see you.
David Birtwistle and Lydia Clyma
One of the few relationships that actually seemed do-able on the outside, both British David and Lydia hit it off when she was introduced to the show half way through.
Unfortunately, it doesn't seem like they're still together, but Lydia does have a new love interest, in the form of fellow contestant Bryce. Although they didn't hit it off on the show, Bryce posted a saucy pic of Lydia to his Boat Chronicles IG account back in February, and has been hot on the like button of her photos.
Is there a new romance blossoming?
We can't wait for a one-year reunion.
READ MORE: Here's every new movie and show coming to Netflix in April 2020