Never Have I Ever season 2: Release date, cast, spoilers and news
25 October 2020, 22:34 | Updated: 15 July 2021, 10:22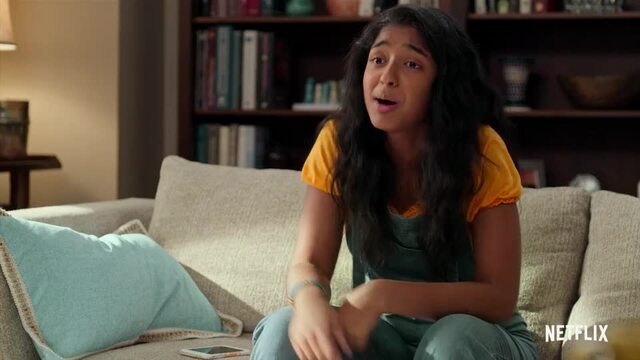 The official trailer for Never Have I Ever on Netflix
Will there be a Never Have I Ever season 2? Here's everything we know about a potential second season of Netflix's new teen comedy starring Maitreyi Ramakrishnan
Fact. Netflix's new teen coming-of-age comedy Never Have I Ever is one of the best shows the streamer has released in 2020.
Mindy Kaling and Lang Fisher's series has received rave reviews from critics and landed on Rotten Tomatoes with a 100% rating. Starring Maitreyi Ramakrishnan as Devi, Never Have I Ever season one follows her mission to a) be "normal" and b) get a boyfriend. The boyfriend in question? The popular guy, Paxton (played by Darren Barnet).
READ MORE: Netflix's Never Have I Ever: Who is in the cast?
Since dropping on Netflix, the show has proven to be a hit and fans are already clamouring for the next instalment. Given the cliffhanger ending of season one, it seems like the writers are already setting up the story for season 2. But what will happen next? [WARNING: Spoilers ahead!]
Here's everything we know so far about a possible Never Have I Ever season two:
Has Never Have I Ever season 2 been renewed at Netflix?
Yes! At the start of July, Netflix announced that season 2 was officially in the works. But judging by the popularity and reviews of the series, season 2 seemed like it was always gonna be a dead cert.
The cast announced the renewal in a Zoom chat, with Maitreyi revealing the good news to her cast mates.
When will Never Have I Ever be released?
In October 2020, it was confirmed that production on season 2 was set to begin in November. Providing all goes smoothly and filming manages to avoid COVID-19 delays, we could expect a brand new season at some point in mid-2021.
We'll just have to sit tight, and wait and see...
WARNING: Spoilers ahead for Never Have I Ever season one ending.
Never Have I Ever season 2 cast: Who will return?
Maitreyi Ramakrishnan, Ramona Young and Lee Rodriguez will all return as our favourite trio Devi, Eleanor and Fabiola.
After that ending, Darren Barret and Jaren Lewison will also be back as Paxton and Ben, respectively.
Poorna Jagannathan (Devi's mum Nalini) and Richa Shukla (Kamala) will hopefully be back alongside Sendhil Ramamurthy (Devi's dad Mohan), who appeared in various episodes throughout the first season. Although, now that Devi is somewhat at peace with her father's death, it's unclear if he will show up in her visions again. Here's hoping he does, though! Justice for Devi's dad!
The rest of the cast, as well as some new additions, will also probably return.
What will happen in Never Have I Ever season 2?
Well, that's all down to Mindy Kaling and Lang Fisher but based on how season one ended, Devi's relationships with Paxton and Ben will likely be the focus of season two. Going from kissing zero guys to kissing two guys? Devi's love life is about to be even more chaotic. Will she stick with Ben, or will she go for Paxton?
Season 2 will also likely explore more of Devi, and her own self-identity journey. From her heritage to her relationship with her mother and her grief about her father, there's plenty of deeper storylines at the heart of Devi's character.
Elsewhere, Fabiola's sexuality and her blossoming romance with Eve will also likely feature in season 2, as will Eleanor's dynamic with her mother. Kamala's relationship with her own traditional belief system will probably be explored further too.
Speaking to StyleCaster, Maitreyi revealed that she's hoping for a season 2, and some focus on self-love for Devi.
"That's all in Lang Fisher's hand. I hope there's a season 2. I'm not even upset about our premiere being cancelled or any kind of conventional press junket," she said at the time. "I just want a season 2 to keep the story moving forward. I want to see Devi start loving and appreciating herself because I think a lot of people are missing that from their lives, whether you're a kid or an adult. People need to learn that you need to love yourself first."
Amen. Here's to Never Have I Ever season two!