There's A New Word For 'Muggle' And We're Not Happy About It
11 November 2015, 16:15 | Updated: 8 May 2017, 17:09
Wait 'til our Father hears about this!
There is an existential crisis happening in the Harry Potter fandom and people are not happy.
Goddess amongst mere mortals and genuine legend, JK Rowling has revealed that there will be a new American term for the iconic word "muggle" in the upcoming prequel movie, Fantastic Beasts And Where To Find Them.
Are you ready for everything you thought you knew to evaporate in front of your eyes? The new word is...
"No-Maj"
It's pronounced 'no-madge' and we're not crazy about it. And yes, it means 'No Magic'... with one less syllable. Guys, the movie is set in 1926, not present day California where it's standard to shorten every single word in your sentence! Whatever next?!
Here's five more words that we hope will NOT be making an appearance in the new HP sequel:
Animagi -----------> Ani-maj
Seriously, if those lazy American wizards are dropping syllables now then let's just roll with it. Although, we can't see McGonagall approving of this one.
Mudblood -----------> Dirtbag
If the word for Muggle has changed, does this mean that Mudblood will have an all American revamp?! Draco will still probably roll with this classic belter, tho.


Basilisk -----------> Big Ol' Snake
American Slytherin's should count themselves lucky. No fancy technical names to skirt around. Straight to the point. Just like 'No Magic'.
Butterbeer -----------> Butterbeer Lite
Why wouldn't American Hogsmeade have their own variation of Butterbeer? But obviously, it'd have to be a Lite beer because... reasons.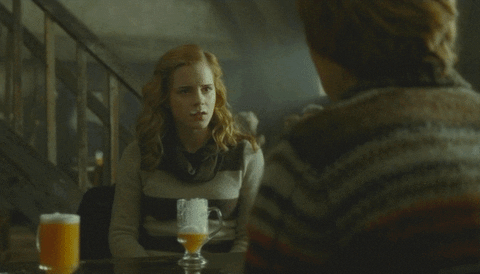 Quidditch -----------> American Broomball
Of course the American Wizarding World would have to have a completely different name for a worldly popular sport that everyone knows by a different name. Of course they would.
But we suppose... if Daniel Radcliffe is ok with this HUGE bombshell, then so are we.
As you were, No-Majborns.