This Is What Nickelodeon Slime Is Actually Made Of And We'll Never Be The Same
29 June 2017, 12:25 | Updated: 29 June 2017, 12:31
Okay, but can we eat this?
If you watched Nickelodeon growing up, there's a decent chance that you'll recognize the network's signature green slime. It became a staple in the 80s and 90s and was used across various shows and award ceremonies to add an extra layer of silliness.
In keeping with its roots, the Kids Choice Awards are still known for the green stuff that comes raining from above. We may be used to Nick slime by now, but have you ever wondered what's actually in the stuff?
via Nickelodeon
Slime technology has obviously advanced in recent years, but back in the day, slime was was actually quite edible.

Marc Summers, who you may remember from such Nick classics as "What Would You Do" and "Double Dare", just spilled the beans on what slime used to be made of and it basically sounds like a healthy smoothie.

"It started off as vanilla pudding, apple sauce, green food coloring, and a little oatmeal. And that was our slime, and the consistency of that was far better than the stuff that I see today. I don't know what it is," he told Tech insider.
Marc is totally right.
Current slime is quite watery but, back in the 90s, ooooh boy. That stuff was LUMPY AF. If we had to take a guess about what new slime is made from, we're probably talking a whole lot of water, something to add a liiiitle thickness, and standard green food coloring.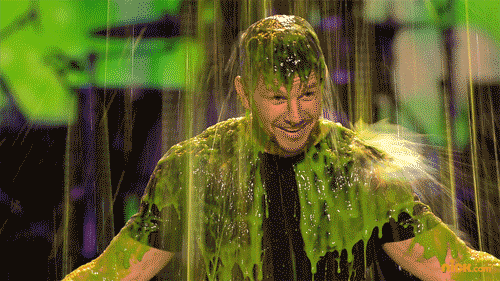 via Nickelodeon/Kids Choice Awards
Ahh, don't you miss the golden age of slime?
A new documentary about Marc Summers' life is coming this October and we're guessing he'll be spilling more classic Nickelodeon tea. Can't wait, Marc. Can't wait!