One Piece live-action's Mackenyu reacts to Zoro thirst in hilarious awkward video
7 September 2023, 14:41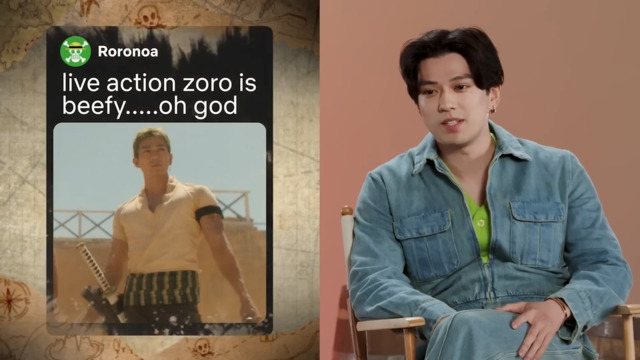 One Piece actor Mackenyu reacts to Zorro thirst tweets
Everyone is thirsting over Zoro in Netflix's new live-action One Piece series.
Mackenyu thirst tweets are breaking the internet following the release of One Piece and he's just reacted in the funniest way.
Fans of the original One Piece manga and anime series will already know that Zoro is an iconic heartthrob. For years, people have fancied the stern swordsman in his illustrated forms. As a result, when Netflix revealed that they were adapting One Piece into a live-action series, all eyes were on the streaming platform to see who they would cast as the moody and muscular icon.
And it's safe to say that Mackenyu does not disappoint in the role! Not only does he act the part of Zoro perfectly but he is also just as muscular as the character and fans all around the world are losing it over how hot Mackenyu is as Zoro.
READ MORE: One Piece live-action praised for casting trans actor Morgan Davies as Koby
Just one look at TikTok or Twitter at the moment and chances are you'll stumble across a Mackenyu fancam on your feed. In a viral tweet, one fan wrote: "started watching the one piece live action and zoro is SO fine how dare they. he is the plot." Another added: "never gonna get over how sexy zoro is, he is the ultimate swordsman."
Now, Mackenyu has responded to the thirst in a video for Netflix. Reacting to a tweet from someone saying that they were "twerking, going feral, legs shaking" over Zoro, Mackenyu looked confused. He then said: "I'll take that as a compliment thank you."
When another fan complimented Mackenyu's many piercings as Zoro, the actor revealed: "I actually did get two more piercings on my left ear." Now, that's what we call commitment!
Mackenyu ended the video by awkwardly laughing and saying: "That was interesting."
ONE PIECE LIVE ACTION SOON I WILL FINALLY SEE ONE OF MY FAV ACTORS (MACKENYU) PLAYING MY OTHER FAV BABE ZORO‼️

TWERKING GOING FERAL LEGS SHAKING pic.twitter.com/CDQRPXAYmW

— Aso 🏴‍☠️ HANGE DAY🌊 (@levisoftnipples) March 8, 2023
never gonna get over how sexy zoro is, he is the ultimate swordsman

— ♡⋆˙ (@kyutoryuus) May 24, 2023
I think we can all agree... Mackenyu!
Read more One Piece news here:
Olivia Rodrigo vs. 'The Most Impossible Olivia Rodrigo Quiz' | PopBuzz Meets