Outer Banks' Rudy Pankow almost played John B. instead of Chase Stokes
4 May 2020, 11:21 | Updated: 15 June 2020, 20:51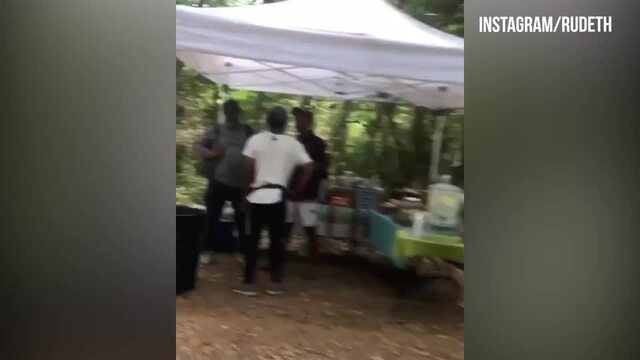 Rudy Pankow gives Outer Banks fans a tour of the set
Chase Stokes nearly lost his lead role in Outer Banks on Netflix to Rudy Pankow who plays JJ.
Rudy Pankow is winning over many fans as JJ in Outer Banks on Netflix but he originally auditioned to play a different role.
Ever since Outer Banks debuted on Netflix last month (Apr 15), people all around the world have become obsessed with the new drama. The hit series, set in North Carolina, tells the story of a group of teenagers called The Pogues, who set out on a quest to help leader, John B. (Chase Stokes) find his missing father. It's filled with twists and turns and the ending is wild.
READ MORE: QUIZ: Which Outer Banks character are you?
Rudy Pankow plays John B.'s best friend JJ and he's quickly become a fan favourite but Rudy almost played John B.
Speaking to Us Weekly about the audition process for the Netflix show, Rudy said: "The first chemistry read, I was John B.. I actually read through Rafe, JJ and John B. within like two weeks. They were not sure which character and they flew me out to Charleston saying, 'You're going to be one of these characters, but I didn't know which one."
He then explained: "The last audition I did in L.A. was John B., so I flew to Charleston thinking like, 'All right, they want me as John B.'" However, things didn't go to plan. "Basically I screwed up John B. and I was like, 'All right, I can come in as JJ!' They sent me three new scenes and I was kind of stressed out just a little bit.
However, he then met Chase and Jonathan Daviss (Pope) and everything fell into place. "When I met Chase, the following chemistry read, it was crazy because I even saw it. … JD, the guy that plays Pope, helped me find JJ the day before and I brought the version of JJ that's in the show today, thanks to JD."
Rudy added: "I really relate with [JJ] and his arc through the show, it's so much deeper. The show follows John B. so much that you can't really guess [what he's doing]. JJ, you get glimpses of stuff that you didn't notice that was there and then it later is revealed."
As for what we can expect from JJ in season 2, Rudy said: "The Pogues aren't the Pogues at first. They're struggling to find that chemistry. JJ is doing his own thing, Kiara and Pope are doing their own thing, and they have to come back together when they find out John B.'s alive. We've got to come together and prove John B. is innocent."
What do you think? Would Rudy have played John B. well?