Penn Badgley says Netflix is to blame for fans thirsting over Jeffrey Dahmer
14 February 2023, 12:06 | Updated: 14 February 2023, 15:40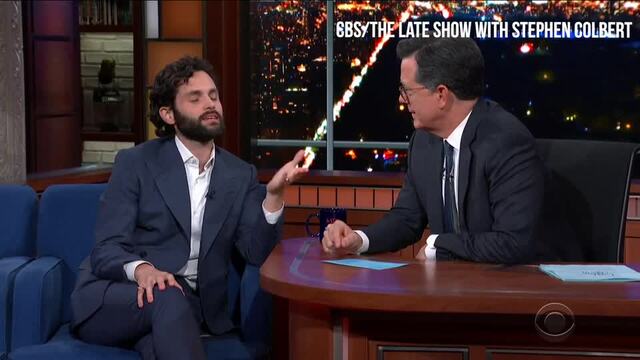 Penn Badgley reacts to fans wanting to date Joe from You
"Jeffrey Dahmer? That is on y- that is on Netflix. That is squarely on the shoulders of Netflix."
Despite playing one of TV's most infamous fictional serial killers, Penn Badgley is not here for the romanticisation of Joe Goldberg's antics, nor the trend of thirsting over real life serial killers in general.
Over the years, Penn has been very vocal about his complete and utter bewilderment at people who are willing to look past Joe's murderous ways because he's charming and hot. And now he's returned as Joe in You season 4, that thirst has come back in an even stronger way thanks to Joe a.k.a. Jonathan Moore's attempts to turn over a new leaf with no murder and no stalking.
After 4 years, Penn is still calling people out for their weird serial killer obsession – for Joe, for Ted Bundy, for Jeffrey Dahmer – and he has also now placed some of that blame on Netflix in a new interview.
READ MORE: Penn Badgley asked to do "zero" sex scenes in You season 4
In an interview with Entertainment Tonight, Penn was asked what message he would send to "people who are finding themselves attracted to serial killers".
Penn then replied, "You need to look at that, inside," before giving You viewers the benefit of the doubt when it comes to Joe Goldberg, a) because he's fictional and b) because the whole point of the show is to make viewers like him.
"Now, to be fair, with our show, you're meant to fall in love with him. That's on us," Penn explained. "Ted Bundy? That's on you!"
Then Penn jokingly called out Netflix for the recent obsession and romanticisation of Jeffrey Dahmer thanks to Evan Peters' portrayal in Dahmer – Monster: The Jeffrey Dahmer Story.
"Jeffrey Dahmer? That is on y- that is on Netflix. That is squarely on the shoulders of Netflix," Penn said, before adding the whole thing is "weird, man!"
People are living for Penn's comments under ET's TikTok video. One user wrote: "Lmaoooooo Penn shading his bosses at Netflix AS HE SHOULD for putting dahmer out there. Like Joe is MADE UP. Bundy and Dahmer aren't."
Others are also pointing out that it's not Joe the killer they're attracted to, "it's because we're attracted to Penn" the actor.
Evan Peters found himself in a similar situation while portraying Dahmer in the recent Netflix series. Viewers later took to social media to call out those who had been romanticising certain scenes in the series because they found Evan attractive in the role, despite the actor's conscious decision to not portray him that way.
In response to the tweets, one user wrote: "Jeffrey Dahmer was a real monster, not a person but a monster, he killed 17 people.. so u guys truly look disgusting and crazy when you say he's hot because he's played by Evan Peters".
Similar comments also came after Zac Efron's portrayal of Ted Bundy in Netflix's Extremely Wicked, Shockingly Evil, and Vile.
Read more You season 4 news here:
Lockwood & Co. Cast Interview Each Other | PopBuzz Meets