Taylor Zakhar Perez felt "pressure" to portray the gay love story in Red, White & Royal Blue accurately
11 August 2023, 17:56 | Updated: 11 August 2023, 18:11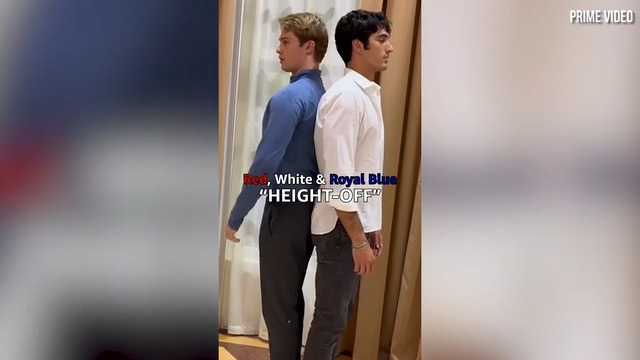 Red, White & Royal Blue stars work out who is taller in real life
Taylor Zakhar Perez's character Alex is bisexual in Red, White & Royal Blue. He falls in love with Prince Henry while discovering his sexuality.
Taylor Zakhar Perez has opened up about playing Alex in Red, White & Royal Blue and making his queer love story accurate.
Like the book it's based on, Red, White & Royal Blue has been praised by viewers and critics alike for its fun and direct take on queer representation. Despite the extreme premise of the son of a president falling in love with a British prince, the film goes to great lengths to make sure that Alex and Prince Henry's gay romance feels true to the LGBTQ+ experience.
Now, Taylor Zakhar Perez has revealed that he felt "an enormous weight" to get his depiction of Alex, who is bisexual, right.
In an interview with Newsweek, Taylor was asked if he felt a responsibility to queer audiences because he was acting out a gay love story. The actor replied: "Yeah, I mean, that was the community that I was thinking about the entire time filming."
Taylor went on to explain: "From the beginning, there was an enormous weight on my shoulders, making sure that we were accurate with representation and accurate with character portrayal. Because I think it's so easy for an actor to phone it in, I've seen it. So I think that's why I took it upon myself, knowing how important this film is for many communities."
As for how he, his co-star Nicholas Galitzine and director Matthew Lopez would approach filming, Taylor said: "We would have these incredible conversations. Sometimes we change [the script], sometimes [it stays] the same, but we were just hypersensitive to making sure everything was properly represented and properly accurate."
Taylor also praised the film's intimacy coordinator Robbie Taylor Hunt for helping him approach his sex scenes with care.
He said: "The intimacy part is so important because Alex's arc as a character as somebody that has only dated women in the past, maybe a couple guy hookups, to not liking Henry to getting kissed by Henry, and then having a relationship. It's just like the different degrees of comfort that Alex starts to have, this needs to be represented in a proper way."
Taylor ended by saying: "It just became this collaborative effort if we ever got stuck somewhere. Everything just was so beautiful. Every conversation was wonderful."
Read more Red, White & Royal Blue news here:
NCT DREAM vs. 'The Most Impossible NCT DREAM Quiz' | PopBuzz Meets