Rina Sawayama wants Michelle Yeoh to play her mother in John Wick | PopBuzz Meets
23 March 2023, 17:27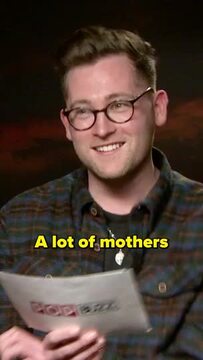 Rina Sawayama wants Michelle Yeoh to play her mother in a movie
Rina Sawayama also wants to reboot Charlie's Angels with Michelle Yeoh and Lucy Liu.
Rina Sawayama has revealed that she wants Michelle Yeoh to play the role of her mother in a future instalment of John Wick.
The wait is over. Rina Sawayama has officially made her acting debut in John Wick: Chapter 4 and it is every bit as iconic as you would expect it to be. Rina plays Akira who is a concierge and the daughter of a hotel manager called Shizu. It's made clear that Akira doesn't care for John Wick and she soon proves herself as an incredible action-hero in her own right.
To celebrate the release of John Wick: Chapter 4, we caught up with Rina to discuss the film, soundtracks, and what kind of film she wants to make next now that she has conquered the action-genre. Oh and there's a lot of talk about mothers.
READ MORE: The year according to Rina Sawayama: 'What would I like to stay in 2022? Liz Truss'
As Akira's mother doesn't appear in John Wick: Chapter 4, we asked Rina who she'd like to play her mother in the next John Wick. Rina then revealed that she wants Michelle in the sequel: "Oh my god. My mother is Michelle Yeoh. Mother of all Asian mothers is Michelle Yeoh."
Explaining further, Rina added: "Michelle in Everything Everywhere All At Once, that is all Asian mums. Like savage, loving, savage again, kicks you when you're down and then brings you back up and then kicks you when you're down vibe."
Rina also said that she got the chance to meet Michelle in person at a fashion show and "completely fangirled and broke down."
Rina let slip: "I couldn't deal with it. It's such an awkward situation cause I'm sat down at a fashion show and she walked past me. I was just like, 'Michelle, um, can I just say, I, um, just really, uh, just find you really, you're so inspiring for the Asian community." And then she was like, 'Thank you' and just like walked past'. Mother!"
Elsewhere, Rina has released a new song, 'Eye for an Eye', as part of the new John Wick soundtrack. With that in mind, we asked her what the greatest soundtrack song of all time is and her answer did not disappoint. "I mean 'Lady Marmalade'." She then added that Destiny's Child's 'Independent Women, Pt. I' from Charlie's Angels is also up there. Taste.
As for who Rina would cast alongside her in her own Charlie's Angels, Rina said: "Lucy Liu and Michelle Yeoh. I think it would be so sick. And also Michelle is, sorry I keep talking about Michelle, she's my mum. Michelle is an actual stunt woman, like that's how she started off. She'll be so sick. And Lucy's amazing, she's also my mum."
John Wick: Chapter 4 (2023) Final Trailer – Keanu Reeves, Donnie Yen, Bill Skarsgård
Finally, Rina teased what genres she wants to act in next: "I would definitely love to do a drama, like a story led [film]. I've always watched movies like Minari and even Everything, Everywhere All At Once. Just these amazing Asian immigrant stories that are coming out. I would love to be part of something like that."
She continued: "I would love to challenge myself to do a comedy because comedy scripts are insanely hard. I would love to dip back into action again but I would love to have more time for training 'cause five weeks, it sounds like a long time but it's not at all."
Action, drama, comedy! Something tells us that Rina can do it all!
Rina Sawayama Paints A Self-Portrait And Answers Questions About Her Life | PopBuzz Meets