The "Riverdale" Cast Already Know Who Killed Jason And Here's What They Think
Teen Vogue just brought us one step closer to finding Jason's killer...
Another day, another step closer to finally catching Jason Blossom's murderer in The CW's Riverdale. We're getting closer, people!
To help us further our investigation into Jason Blossom's murder, Teen Vogue took one for the team and asked the cast what they thought after they read the script and discovered who the murderer is in the final episode. Judging by their reactions, it sounds like we're in for an absolutely insane season finale.
Lili Reinhart called it "an unexpected surprise".
The CW / via giphy.com
"When I found out who the killer was, it was a complete surprise. I had my suspicions but didn't want to know until the last second. I think it's an unexpected surprise."
Camila Mendes was fully SHOOK.
The CW / via giphy.com
"My heart was beating so fast. I was like, No, no, it can't be; it can't be, and I was like, Oh my God, no — it is. I thought there was going to be some twist of events, there's no way it's that person."
Madelaine Petsch literally *gasped*.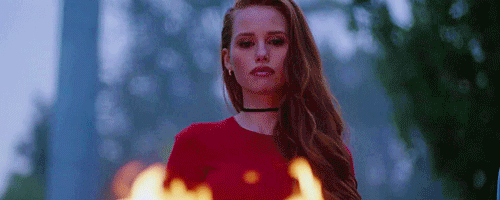 The CW / via giphy.com
"I just made a lot of facial expressions. I am just so impressed with the writers — the way they tied everything together was so good."
Ashleigh Murray nearly died.
The CW / via giphy.com
"I had read the script later at home by myself. I guarantee you that the people across the hall thought that I was getting murdered — I couldn't believe it. I honestly lost it."
Cole Sprouse was surprisingly cool about it.
The CW / via giphy.com
"I wasn't that surprised because I had already exercised blaming everyone like some sort of witch hunter. When the truth was revealed, it was more of like an Ohhhh, that was the theory that made the most sense."
And KJ Apa already knew.
The CW / via giphy.com

"I kind of, to be honest, knew. In the back of my mind, I was like, I knew that. I knew that was going to happen. I wasn't too surprised."
Hmmm, interesting... now let's take a psychological deep dive into those answers, shall we?
They didn't spill any out and out spoilers but judging by the levels of shook-ness that are presented in a few of the answers, it sounds like Jason's murderer is actually someone who we least expect. Someone with no real motive.
They sound they've been completely blindsided by the reveal too, right? Well, all except two. KJ Apa and Cole Sprouse to be exact. We've already investigated KJ's apparent accidental reveal and now we're starting to believe it. And as for Cole? His answer is a little suspicious and there ARE a fair few theories that fit with Juggie being the killer.
It was Jughead, wasn't it? We're convinced. What do you think?
The CW / via giphy.com