Lili Reinhart Just Shut Down That One "Riverdale" Theory You Wanted To Come True
21 August 2017, 11:32
"I feel like I want to shut that theory down." No, please don't.
Another day, another Riverdale fan theory that's been unceremoniously shut down by the cast of the show. This time, it's Lili Reinhart that is back at it again to ruin our days and this time's she gone for the jugular. (No 'Jug' pun intended.)
To be honest, it seems like all Lili seems to do these days is debunk everyone's theories on the internet. A few weeks ago, she nipped that werewolf theory right in the bud and now she's quashed one of the internet's wildest (and most talked about) theories to date.
The CW
Speaking to Seventeen.com, Lili finally responded to the GENIUS theory that her secret brother is actually Joaquin, the product of a teenage love affair between her mum, Alice and Jughead's dad, FP Jones - and she wasn't into it at all.
"I feel like I want to shut that theory down. Maybe there was a romance between Alice and F.P., but Joaquín went on that bus to San Junipero and he's just going, sadly for Kevin. But you know what? I think that was for the benefit of my sweet little Kevin.
I think you don't want to see Kevin wrapped up in a Serpent. Even though Joaquín was a good guy, had a good heart. It's like, you want Kevin to be with someone who can be a bad boy but someone who maybe doesn't get involved in murders. You know?"
The CW
Hmmm, interesting. Notice how she didn't quite shut it down but instead diverted the question toward Joaquin and Kevin's relationship? Nice try, Lili. But it does kinda make sense though - by suggesting that Joaquin has skipped town for good and never to be seen again, maybe she's hinting at a possible face to face reunion between the long lost siblings and if Joaquin isn't there then that can't happen, can it?
When Archiekins himself, KJ Apa, stopped by the PopBuzz Podcast to have a chat about the internet's favourite theories going into Season two, we asked him about the very same theory and well... his poker face wasn't that iconic.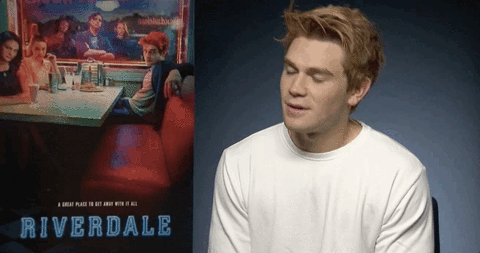 PopBuzz
Ugh, can someone just spill the tea so we can stop worrying about that implications this will eventually cause for Bughead? Please and thank you in advance.
____ ____ ____ ____ ____
Listen to the #PopBuzzPodcast with Riverdale's KJ Apa right here or subscribe for free on iTunes to get new episodes sent straight to your phone every Friday.