WATCH: Here's What MCR's 'I'm Not Okay' Video Would Look Like If It Was Set In 'Riverdale'
15 March 2017, 17:10 | Updated: 8 May 2017, 17:09
The video for 'I'm Not Okay (I Promise)' looks even better with some added Archie.
Riverdale, the hottest high school murder investigation drama since Scooby Doo, has been keeping us glued to our screens for weeks now as Archie, Jughead, Betty and Veronica figure out who killed Jason. But, while we do love the music the creators have picked out for the soundtrack (shoutout to Josie & The Pussycats), you know what would make things even better?
A little bit of MCR thrown into the mix.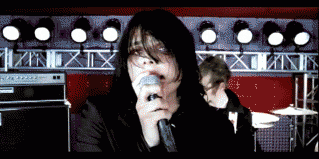 wifflegif
Yep, you heard us.
So, in order to combine our fave TV show with our fave band, we went back and check out My Chemical Romance's iconic video for 'I'm Not Okay (I Promise)' and did a little creative editing so we can all see, once and for all, what it would look like if Gerard showed up as a new student at Riverdale High.
Check out our MCR/Riverdale mash-up in the video below:
Save
Save