Jason Blossom's Killer On Riverdale Will Be Revealed Sooner Than You Think
26 April 2017, 13:32 | Updated: 8 May 2017, 17:09
The mystery of the year is about to be solved.
The time is finally upon us.
After joyous weeks spent dishing on all the Riverdale gang's antics, diligently following every last detail, and indulging in the truly outlandish fan theories, the season finale is upon us. Riverdale's season finale will be an especially good one as we dive deep into the identity of Jason Blossom's killer.
EW is reporting some seriously titillating spoilers, so here are a few things you should expect from the final episodes of Riverdale season 1.
The identity of Jason Blossom's killer is coming sooner than you think...
Apparently the second to the last episode will reveal Jason's killer. The show's executive producer, Roberto Aguirre-Sacasa, says the entire town is "reeling" from the revelation that ultimately comes down to the secrets of Sweetwater River.
Hold on to your ships...
Because, as Aguirre-Sacasa puts it, one couple will "go all the way" while another pairing hangs in the balance. WHAT DOES IT ALL MEAN?
Archie and the Pussycats is finally a go...
Archie is finally set to perform with The Pussycats, so hopefully our hero will have patched things up with Val by then. No word on the circumstances that lead up to this, but we can't wait to hear more of Red's singing voice.


Jughead gets a pet!
Hot dog!
One of the main characters may have a brush with death in some shocking circumstances that could set up season 2.
This one is big, though Aguirre-Sacasa leaves no room for speculation. As the final episodes apparently focus on the core four, it wouldn't be out of bounds to suggest that one of your faves will be fighting for their life. On the flip side, we could be looking at an ancillary character getting caught in the cross hairs, sparing the core four, and setting up a new mystery for the second season.
Well, I'm sweating now, see you all on May 11th!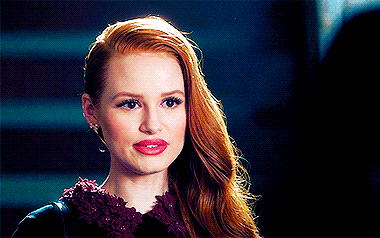 ____ ____ ____ ____ ____
Listen to the #PopBuzzPodcast with Secret Midnight Press' Ashley Dun & Jesse Cale and Carmen Carrera right here or subscribe for free on iTunes to get new episodes sent straight to your phone every Friday.