"Riverdale" Season Two: Release Date, Cast, Plot And Everything You Need To Know...
24 July 2017, 10:32 | Updated: 24 July 2017, 10:53
Everything we know about "Riverdale" season 2 so far...
UPDATE 24/7/17: After a pretty successful Comic Con weekend, we now have a bunch of spoilers and secrets about what we can expect to come out of Riverdale season two and to be honest, it doesn't look like any of the characters are going to have a smooth ride. Here's all the new information we found out during Riverdale's weekend at SDCC.
We'll find out what happened to Fred Andrews in the first episode.
The female Jughead, Toni Topaz, is coming to Riverdale and she will probably cause trouble for Bughead.
The show will explore bisexuality (properly) with Toni's character.
Bughead is strong AF and Barchie isn't going to happen.
Archie and Jughead won't be best friends anymore. Their relationship will become strained.
Betty will be at the core of the mystery in the first half of the season where she will experience a 'dark and broken' period.
We will learn about who Alice Cooper used to be back in high school and what made her who she is today.
Veronica's ex-boyfriend from New York will show up and Veronica will turn all dark and twisty.
The girls will then reform their Revenge Squad and basically f*ck him up.
Cheryl will go from HBIC to straight up 'everyone's-worst-nightmare'. (For real, why is her mum bandaged up in the trailer?!)
THERE WILL BE MORE JOSIE.
THERE WILL BE MORE VAL AND MELODY.
Oh, and Josie is dating Reggie now.
There will no werewolves, but there may be some witches.
Jughead's mum and sister might show up in the second half of the season - but they still haven't been cast yet.
Kevin will get a new love interest. Which begs the question - is Joaquin ever coming back?
PHEW! Is it October 11th yet?
Here's what the cast have been revealing about the next season:
How many episodes will Riverdale Season 2 have?
There will be 22 episodes in season two as confirmed by KJ Apa on Instagram. The show will air the premiere on October 11 and probably wrap up around late Spring with a hiatus (and inevitable cliffhanger) over the Christmas break.
#Riverdale has a premiere date! Wednesday, October 11, at 8:00 pm! The countdown begins…now.

— RobertoAguirreSacasa (@WriterRAS) June 8, 2017
What are the Riverdale Season 2 episode names?
Showrunner Roberto Aguirre-Sacasa has been teasing the names of the episodes on Twitter. So far we know the titles of the first five episodes of the season and their names are all taken from iconic movies that could somehow influence the plot of the episode.
Episode 1: "Chapter Fourteen: A KISS BEFORE DYING"
Here we go. Season Two of #Riverdale is officially underway! Are you ready? pic.twitter.com/tPvMcRzv8t

— RobertoAguirreSacasa (@WriterRAS) May 23, 2017
Episode 2 is called "Chapter Fifteen: NIGHTHAWKS", episode 3 is called "Chapter Sixteen: THE WATCHER IN THE WOODS", episode 4 is called "Chapter Seventeen: "THE TOWN THAT DREADED SUNDOWN" and episode 5 is called "Chapter Eighteen: WHEN A STRANGER CALLS".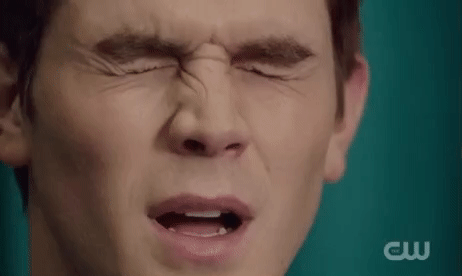 The CW

Riverdale Season 2 cast: who's coming back?
Well, unless *someone* ends up dead (Fred...), then you can probably bet that all your faves including KJ Apa, Cole Sprouse, Lili Reinhart and Camila Mendes will be back in action as Archie, Jughead, Betty and Veronica respectively.
Reggie will now be played Charles Melton instead of Ross Butler whose role in 13 Reasons Why means he's too busy to take on a larger role on Riverdale.
Veronica's mysterious father Hiram Lodge is officially out of prison and will be making his grand return to Riverdale when the season starts. He will be played by Mark Consuelos. Ummm, #HotDadsOfRiverdale, amirite?!
What will happen in the plot?
Cole Sprouse took to Reddit to answer a few questions and revealed that we could be looking at a "much darker and much weirder" season. "Tone and genre elements that we touched upon in the cinematography and narrative are getting a big emphasis season 2."
Season two will no doubt be focused on the repercussions of the robbery at Pop's Diner and the fate of Archie's dad Fred. There's also the pressing matters of Alice Cooper's long lost son and the potential appearance of Sabrina. Oh, and if that insane zombie theory comes true we could be looking at some kind of undead storyline. Lili Reinhart already has some theories of her own though... #DarkBetty
Season 2 of Riverdale could mean..... more dark Betty?

— Lili Reinhart (@lilireinhart) March 7, 2017
Is Fred Andrews dead?
Considering the first episode of the new season is titled "A Kiss Before Dying", then it sounds like someone is ~definitely~ going to die. We wouldn't put it pass the writers to surprise us all with another murder. It hasn't been confirmed that Fred has kicked the bucket but it's not looking good for Archie's dad but he has been spotted on set for the first episode of the season so there's still a bit of hope, kids.
Will there be zombies in season 2?
The CW
Earlier in the year an INSANE fan theory started circulating that Archie would die and would come back as a zombie. Turns out, it wasn't that wild of a guess after all.
Roberto Aguirre-Sacasa revealed that he had originally thought Rivierdale would be a Buffy-type show with more supernatural happenings. "Ultimately we ended up... starting with a more grounded, less supernatural version of that because we thought we could always go there, but if we started there, it would be hard to take that away", said Roberto. "So start a little more grounded and normal, and then introduce something supernatural as opposed to, once you're supernatural, it's going to be hard to go back to non-supernatural, so that was kind of the thinking behind that."
And then when asked if Riverdale would be heading down that zombie route, he replied "There's a chance that happens." Holy fuck.
Our bodies are ready.