There's Going To Be A Second Death On "Riverdale" And You're Not Ready
3 April 2017, 12:01 | Updated: 8 May 2017, 17:09
SPOILERS, OBVIOUSLY.
Just when you thought you finally had a firm grip on the goings on in Riverdale and the traumatic murder mystery surrounding Jason Blossom, Riverdale is about to drop another bombshell on you... in the shape of a SECOND character death.
The CW / via giphy.com
Luke Perry (Fred Andrews) and KJ Apa (Archie, duh) revealed the mind-blowing spoiler at WonderCon this past weekend after an interviewer asked them "what was your reaction when you found out about a second character who's going to die?"
You can catch that part of the interview at 3:34 seconds in the video below:
After a brief awkward pause - complete with KJ muttering a complete incoherent answer - Luke decided to address the question. "I felt it was too soon for them, and yet at the same time, they deserved it... It was too soon but they had it coming."
When prompted to reveal if it was in fact Jason's murderer that finally got their comeuppance, they completeeeeeely tried to avoid the question, opting to deflect with compliments to both of the interviewers. Sneaky. Veeerrry sneaky.
So who will be getting the chop?
The CW / via giphy.com
There's a fair few suggestions online that have fingers pointed toward either FP Jones (Jughead's dad) or Hal Cooper (Betty's dad). They both fit the bill of it being too soon for them to depart but both equally deserve what's coming to their problematic selves. *whispers* What if Betty's dad kills Jughead's dad... We need to lie down, omg.
Other conversations online all mention Cheryl (please, no) or Polly but to be honest, they've done nothing to deserve a grizzly murder so we're not convinced. We guess we'll just have to take this one back to our suspect board and get back to you with more evidence.
For real though, it better be one of the parents and not any of the teens otherwise the writers will be catching these hands.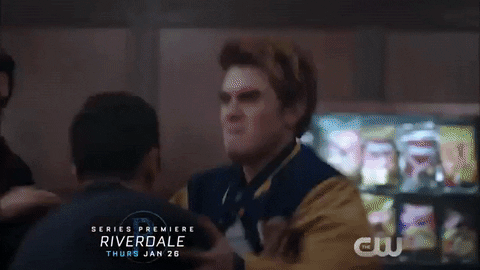 The CW / via giphy.com
____ ____ ____ ____ ____
WE'RE BACK! Listen to the #PopBuzzPodcast with Noah Cyrus right here or subscribe for free on iTunes to get new episodes sent straight to your phone every Friday.