"Riverdale" Is Finally Here And The Memes Are Already LIT
27 January 2017, 12:10 | Updated: 8 May 2017, 17:09
Betty and Veronica? Archie & Jughead? Josie & Justin Gingerlake? Too many ships to handle!?
The long wait is finally over - Riverdale, The CW's modern day update on the classic Archie comic series, premiered in the US last night and the internet just cannot handle its emotions.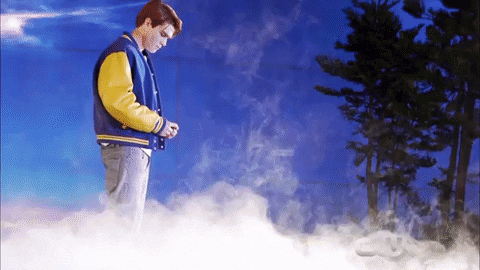 Archie Comics, The CW, Giphy
Starring everyone's favourite woke bae Cole Sprouse, the much-anticipated mystery series has been on our radar for months now and, judging by the HUGE online to last night's premiere, the high school adventures of Archie, Jughead, Betty and Veronica look set to keep us all entertained (and making gifs, art and NSFW fanfic) until at least the end of season one.
In fact, even after one episode, the Riverdale memes are coming in thick and fast...
Firstly there is all the inevitable shipping of Betty and Veronica who shared a brief kiss that has the fandom excited but conflicted:
So many feelings....but will these crazy kids ever end up together (yes, of course, come on, let's just be honest here, it's gonna happen before the finale, guaranteed).
Although, let's not forget that other big ship that's also got the fandom working overtime on theories and predictions:
Ya never know...
Elsewhere, Ms Grundy is perhaps not the most popular teacher in town after (spoiler alert) she got a bit too "hands on" with one particular student...
Ouch.
And then of course there's Jughead.
So innocent. So pure.
Cole Sprouse had already stated how important it was for the character to remain asexual and fans have reacted positively to his new portrayl of the classic comic sidekick.
Although a few couldn't resist referencing that other role he's pretty famous for...
IN MY LOBBY?!?!?
But, best of all is the one quote that has already become the series catchphrase after just one episode:
Slay.
It's taking on a life of its own:
Iconic. Put it on our gravestone tbh.
And, last but not least, there's Josie & The Pussycats.
The greatest band of their generation.
And we love Josie even more after this particularly savage insult.
Tbh, as a fellow ginger, I kinda like that name. Might start getting people to call me that around the office.
So, what did you guys think of Riverdale? Let us know in the comments below.
___ ___ ___ ___ ___
From Brendon Urie to The Vamps, here are the best bits from the #PopBuzzPodcast in 2016. Listen right here or subscribe for free on iTunes to get new episodes sent straight to your phone every Wednesday.