Did Ruby Rose Really 'Turn You Gay'? She Doesn't Think So...
15 April 2016, 12:05 | Updated: 8 May 2017, 17:09
"It sounds like I did something against their will in the middle of the night"
Have you ever uttered the words "Ruby Rose turned me gay", or written them to the lady herself online? Well she's got some interesting thoughts about it.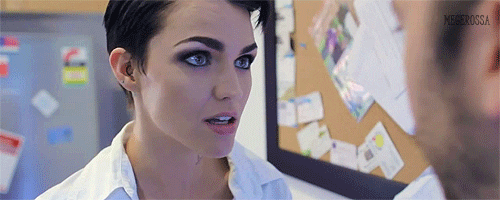 giphy.com

In an interview with Galore Magazine, Rose revealed that she takes the 'compliment' with a pinch of salt. She said, "It sounds like I did something against their will in the middle of the night, as if I crept into their brain and pushed the gay button, then did an evil laugh and left them to fend for themselves — newly gay and alone in the world."
After the success of Orange Is The New Black, Ruby said she would get a lot more attention from 'straight' girls. "It was very funny how many people would text photos, or slide right into my DMs for months after Orange launched. I would say, "That's cute, but I'm pretty sure you're straight." And they'd say, "I am, but now I have a crush on you." And I would respond, "I'm pretty sure I met your boyfriend at the premiere." But then, if I actually reached out to them to get a coffee as a friend to hang, they wouldn't ever make plans."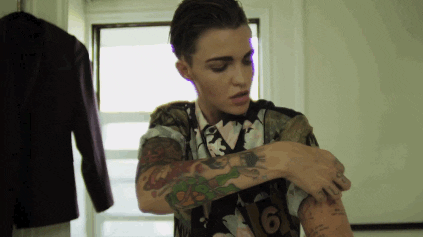 giphy.com

She's taking it all in good spirit though. "My friends and I would literally die over this—it's just so funny. I mean, it is and it isn't. People want to lead me on, or don't realize they are doing it, but I can always eventually work out what is real and what is play. I just think that, as human beings, we are drawn to what we can't have. We are drawn to fantasy over reality, and often are in love with an idea of a situation rather than the reality of it."
The story doesn't end there. The interview caused a minor stir among news websites, with many leading with misleading headlines so Ruby took to Instagram to set the record, uh, straight *ahem*.
Here's what she wrote in the caption:
"I'm a fan of all these publications and the 100s of others that have used bizarre click bait headlines and taken a really light hearted funny interview with @galore out of context... But I literally don't "hate anything" "I don't think airport fashion is trash" "Nor do I think I turned anyone anything" I just answered the questions asked ... Just read the link from Galore I'll put in my bio. I said everything is a blessing, everything is complimentary and I don't take it seriously. Also that I found Channing Tatum really hot in magic mike but sadly I didn't turn straight... I also named basically all my friends who are perfect looking all the time and said I'm trash at the airport and they are heaven. So I don't know why people can't just use actual quotes from the article.. Why make a positive article a negative jab."
Ruby's right to not take it too seriously but some people do find the phrase 'x turned me gay' problematic, mostly because of the perceived internalised homophobia.
For example, when people say 'Ruby turned me gay', the assumption is that you have to be "fully" gay to be attracted to Ruby. This ignores the possibility or bisexuality, pansexuality, queerness etc. It also ignores that Ruby is gender-fluid. The phrase kinda suggests that people are reluctant to entertain the idea that they themselves might be a little more curious in their own sexuality than they are letting on.

Is saying 'Ruby turned me gay' problematic, or is it just a light-hearted compliment? Let us know in the comments.
xxizzytripxx.tumblr.com