RuPaul Just Changed The Rules Of Drag Race And Literally NO ONE Saw It Coming
4 August 2016, 12:42 | Updated: 18 January 2018, 13:48
The plot twist to end all plot twists! Truly.
Your next season of RuPaul's Drag Race: All Stars is just around the corner, darlings and boy has Mama Ru got a treat in store for all of us!
A new trailer was dropped this week but before we could even get excited about seeing all our faves back in the work room (Adore! Alaska! Alyssa!) Ru slapped us in the face with the plot twist to end all plot twists and literally no one thought she had the daaaaamn nerve to pull a sickening stunt like this.
Here's the tea: In every season of RuPaul's Drag Race, the Queens take part in both a main challenge and a runway show to avoid being placed in the bottom two by the judges. The bottom two are then required to lip sync for their lives to save themselves from elimination. The Queen that loses the lipsync? She sashays away, hunty.
OK, now forget all of that because Ru has flipped the outcome of the competition and it's f*cking wild. The Queens will now be lip-syncing for their LEGACY!
via giphy.com
WHAT?! In the twist, the Queens will compete as normal but the TOP TWO will then face-off in the final lip sync. The *winner* will then get to choose who gets sent packing. Not Ru, not Michelle Visage... the actual winner of the lip-sync. *sweats*
This is the level of stress we really did not need Mama Ru to pile on us right now. Seriously. What does this mean for Coco and Alyssa's legendary beef? And Rolaskatox?! WHAT ABOUT ADORE DELANO?! *sweats more*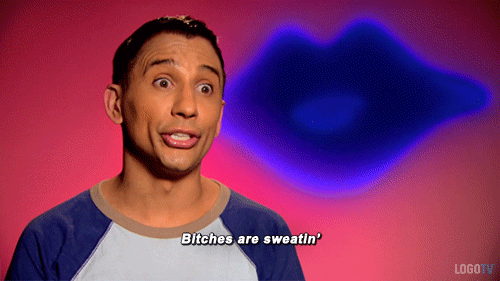 via giphy.com
Good luck, and let the best woman... not vote off our faves! Who do wanna see snatch the crown? Spill it in the comments, hunty!