Is This The WORST Lip Sync In RuPaul's Drag Race Herstory?
16 March 2016, 13:50 | Updated: 18 January 2018, 13:49
All tea, all shade tbqfh!
SPOILERS FOR EPISODE 2 OF RUPAUL'S DRAG RACE SEASON 8
For the second time in Drag Race Herstory, RuPaul sent TWO Queens home after a disastrous lip sync and fans are absolutely FUMING.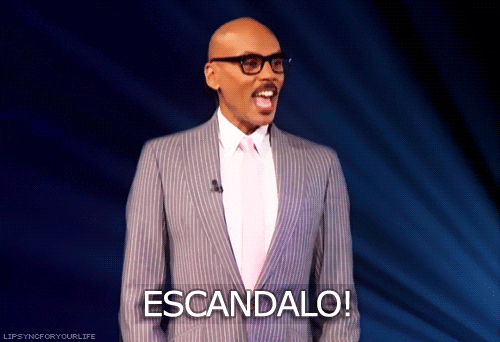 Here's the tea on what went down on that fateful night on the main stage.
After a pretty successful main challenge, Dax and Laila found themselves up for elimination. Not because they were completely awful, but because the other Queens were simply better. And so we begin our second lip sync of the season.
Long story short, the resulting lip sync was a bigger flop than that time double elimination OGs Vivienne Pinay and Honey Mahogany butchered Britney Spears' Oops I Did It Again back in Season 5. A CATASTROPHIC FLOP IN FACT. Why? Because they were handed Gloria Gaynor's I Will Survive on a platter and failed to serve a single ounce of Charisma, Uniqueness, Nerve or Talent.
Watch it below and try not to let your inner rage boil over.
It was so bad that Twitter couldn't even handle it.
The choice of song and outcome of the lip sync sent fans into an absolute spilt glitter induced meltdown.
That lip sync for your life tonight was so bad .... Like probably the worst one in drag race history

— ashlee simpson (@bbspiice) March 15, 2016
That was the saddest lip sync ever on @rupaulsdragrace - "I Will Survive" is a staple you should not mess up! Glad both went home.#dragrace

— Karmen (@rock247music) March 15, 2016
@RuPaul you made the right decision tonight that lip sync was stale and underwhelming #dragrace

— H0NEY MATTEL (@H0NEYI3ADGER) March 15, 2016
How do you flub a lip sync to "I Will Survive" SO severely that Ru sends both of you packing? Answer me THAT. #DragRace

— james (@jdspillsthetea) March 15, 2016
Watching tonight's lip sync mess like #DragRace pic.twitter.com/2jFwMyp3eg

— Marc (@MarcMonster) March 15, 2016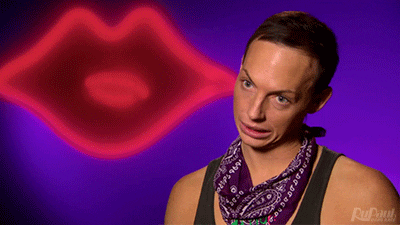 via giphy.com
What was Mama Ru thinkin'?! To use the most ICONIC Drag song of all time in a WEEK TWO lip sync battle with two lacklustre Queens?! OH HELL NO.
All tea, all shade - it's literally unforgivable. I Will Survive is a Week 10 lip sync that should have been reserved for the next season of 'All Stars'. Remember Coco Montrese and Alyssa Edwards' weave snatching lip sync to Paula Abdul's Cold Hearted Snake? Yas? Gloria Gaynor's anthem should have been their re-up. Can you imagine how SICKENING that would be? We'd still be talking about it 10 years from now. And we'd all be planning Michelle Visage's farewell party because it surely would have destroyed her. SMH, Drag Race... SMDH.
So, what do you think?
Was this the worst lip sync in Drag Race Herstory? Or do Vivienne and Honey still hold the crown?