Simu Liu responds after awkward video of him and Ryan Gosling goes viral
27 July 2023, 17:10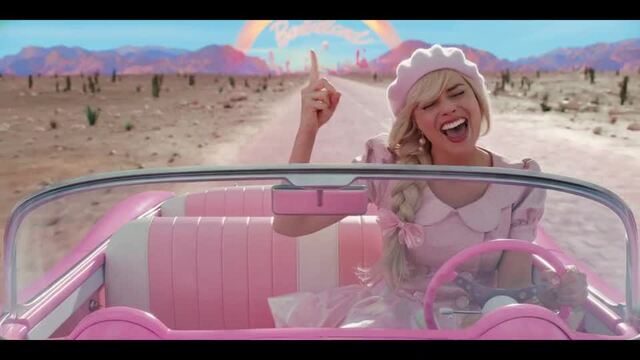 Watch the official Barbie trailer
"I'd beach off with this Kenadian again in a heartbeat."
Barbie actor Simu Liu has responded after his 'awkward' moment with Ryan Gosling at a press event in Canada Kenada went viral.
Ahead of the film's release, Ryan and Simu both attended a Barbie press day in Toronto where they spoke to outlets and posed for photos on the pink carpet.
However, a clip of the duo posing for pictures (originally posted by Etalk) quickly spiralled out of control on social media after it appeared to capture a brief comment from Ryan that resulted in Simu awkwardly moving his arm away from the actor.
READ MORE: 14 of the most iconic Ryan Gosling quotes about playing Ken in Barbie
In the video, Simu can be seen with his arm around Ryan's back, before Ryan says something to him and Simu pulls his arm away. Simu then says, "You don't want– That's too tender? Fair." The two then laugh, brush it off and pose together with their hands in their pockets.
"Oh I'd literally never show my face again," one user wrote in a viral response to the clip, while others called it "humiliating" and "embarrassing" for Simu. Others defended the duo, saying it wasn't that deep at all and suggesting they were playing off their character's relationship in the film.
The duo both play Kens in the movie, but they're not exactly besties. Simu plays the main rival of Ryan's Stereotypical Ken, who often picks fights with Ryan's Ken for the affections of Stereotypical Barbie, played by Margot Robbie.
Now, Simu has responded to the comments. On his Instagram story, Simu posted a photo of the two of them together at the event and wrote: "I'd beach off with this Kenadian again in a heartbeat. He is the best human in every way, especially when he jokes around with us on the carpet and on set, infecting all of us with his kenergy."
"Now let's get back to the issues that matter, like supporting our striking actors and writers fighting for fair wages!," he added.
So there you have it! No one is beaching anyone off! The Kens are friends! Drama over!
Read more about Barbie here:
The Witcher Cast Interview Each Other | PopBuzz Meets