Sabrina Carpenter fans want her to play Rapunzel in live-action Tangled
30 October 2023, 17:03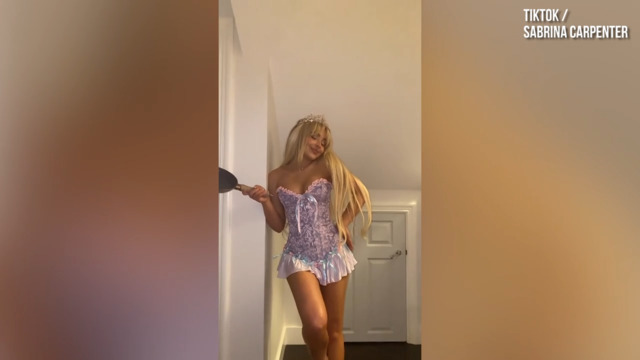 Sabrina Carpenter dresses as Rapunzel from Tangled for Halloween
To celebrate Halloween, Sabrina Carpenter wowed fans with a Tangled-inspired Rapunzel costume.
Sabrina Carpenter just dressed up as Rapunzel for Halloween and fans want her to play the princess in a live-action Tangled.
Ever since reports emerged that a live-action version of Tangled is in the works, fans all around the world have been making clear who they want to play Rapunzel and Flynn Rider in the movie. As it stands, Disney are yet to reveal who will play both characters but tweets begging the likes of Maitreyi Ramakrishnan and Florence Pugh to play Rapunzel regularly go viral.
Now, Sabrina Carpenter seems to have put her name in the running by wearing an iconic Rapunzel costume for Halloween.
READ MORE: Tangled star Zachary Levi wants to play Flynn again in the live-action movie
Yesterday (Oct 29), Sabrina posted a video of her wearing a tiara and a purple princess style corset reminiscent of Rapunzel in Tangled. If that weren't enough, Sabrina also posed with Rapunzel's iconic saucepan in hand and she captioned the video "vague ambiguous long haired princess". To top it all off, 'When Will My Life Begin' played in the background.
Unsurprisingly, the video has gone viral with thousands of people demanding for Disney to cast Sabrina as Rapunzel in the comments. One person wrote: "ABSOLUTE SLAY IM VOTING FOR YOU TO BE THE NEXT LIVE ACTION RAPUNZEL." Another commented: "U NEEDD TO BE THE NEXT RAPUNZEL."
This isn't the first time that fans have let it be known that they want Sabrina to play Rapunzel either. Sabrina is besties with Taylor Zakhar Perez in real life and fans often tweet that they should play Rapunzel and Flynn.
With her acting and vocal talent, there's no doubt that Sabrina would be an excellent Rapunzel. Imagine her version of 'I See the Light'?!
What do you think? Is Sabrina right for the role?
Read more Sabrina Carpenter news here:
Sabrina Carpenter Breaks Down Her Favourite Lyrics | PopBuzz Meets