Sabrina Is Getting Her Own "Riverdale" Spin Off And It's Everything You Ever Wanted
21 September 2017, 11:34 | Updated: 27 October 2018, 17:21
Something wicked this way comes, fam...
As any and every Riverdale stan knows, the inclusion of Sabrina the Teenage Witch in the show has been on the cards for a very long time and now, she's FINALLY making her way into town.
In case you didn't know, Sabrina is part of the Archie Comics universe. Her appearance on Riverdale has been teased by show runner Roberto Aguirre-Sacasa many times but never really came to fruition in the first season. (Well, it kinda did...)
Despite hinting that she could possibly appear in season two, it started to sound like the writers were backtracking on adding her and her supernatural skills to Riverdale's roster because it would take the show out of the "reality" it had already established for itself.
So, to cut out the middle man, they've decided to give Sabrina her own damn show.
Not yet, ladies, but very, very soon… #Riverdale, #Greendale, #ChurchofNight, #SomethingWickedThisWayComes… #AndaChildShallLeadThem… pic.twitter.com/RCHSE3Znnk

— RobertoAguirreSacasa (@WriterRAS) September 20, 2017
It's been reported that Sabrina will finally get her very own "spin off" Riverdale series, and it's gonna be NOTHING like the iconic Melissa Joan Hart TV show you became accustomed to in your childhood.
The CW have given the go ahead for The Chilling Adventures of Sabrina comics to be adapted into a TV show, written and directed by the same guys who did Riverdale, but instead of kooky spells, talking cats and the ultimate bae Harvey, this version will be a dark coming-of-age story that focuses on horror, the occult and, strap in... witchcraft.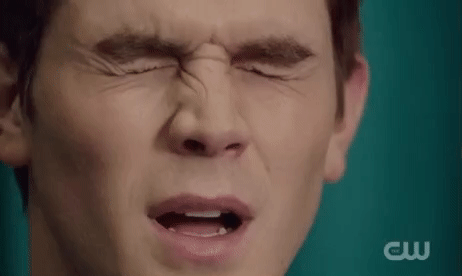 The CW
According to Deadline, this series will see Sabrina "wrestling to reconcile her dual nature — half-witch, half-mortal — while standing against the evil forces that threaten her, her family and the daylight world humans inhabit."
As it stands, there are no plans to introduce Sabrina via a backdoor pilot during Riverdale's second season - Sabrina will get her own stand-alone pilot episode. But that doesn't mean Sabrina, who lives on the other side of Sweetwater River in Greendale, won't show her face in Riverdale. There will be a halloween episode this season after all...
Sabrina will make her long-awaited appearance toward the end of 2018 or early 2019.
And as for who will be playing her? Dove Cameron has a few ideas.
The CW