Scott Pilgrim Takes Off: Release date, cast, plot and everything we know
17 August 2023, 12:23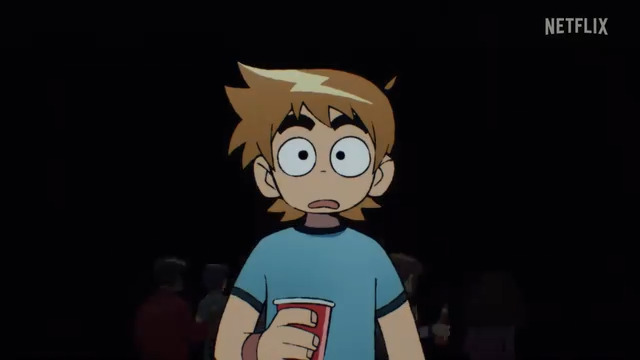 Watch Netflix's Scott Pilgrim trailer
Netflix's upcoming anime series has been described as "more adventurous than just a straight adaptation of the original books."
It's happeninggggggg! Netflix is bringing back Scott Pilgrim for a brand new anime series.
The Scott Pilgrim Takes Off series is based on the original comic series created by Bryan Lee O'Malley. The Netflix series, which consists of eight stunningly animated episodes, is also executive produced by Edgar Wright, who directed the 2010 Scott Pilgrim vs. The World movie.
The Netflix series will also see all the film's original cast return to voice the anime versions of their characters. And yes, that does include Brie Larson, which means... a brand new rendition of 'Black Sheep'?! Oh yes!
Scott Pilgrim Takes Off will be released on November 17th 2023 – here's everything we know about it so far.
When does Scott Pilgrim Takes Off come out on Netflix?
Scott Pilgrim Takes Off release date: When is it released?
It's now been confirmed that Scott Pilgrim Takes Off will be released on November 17th, 2023.
The anime series will consist of eight episodes, and will be adapted from O'Malley's original graphic novels. The series comes from anime house Science SARU, and is written by O'Malley and BenDavid Grabinski.
Scott Pilgrim anime cast: Which original cast members are returning?
All the major cast members from the 2010 movie are returning to voice their characters in the new Netflix anime series, including the likes of Michael Cera, Mary Elizabeth Winstead, Brie Larson and Chris Evans. See the full list below:
Michael Cera as Scott Pilgrim
Mary Elizabeth Winstead as Ramona Flowers
Chris Evans as Lucas Lee
Anna Kendrick as Stacey Pilgrim
Brie Larson as Envy Adams
Aubrey Plaza as Julie Powers
Satya Bhabha as Matthew Patel
Alison Pill as Kim Pine
Mark Webber as Stephen Stills
Kieran Culkin as Wallace Wells
Brandon Routh as Todd Ingram
Jason Schwartzman as Gideon Graves
Johnny Simmons as Young Neil
Mae Whitman as Roxie Richter
Ellen Wong as Knives Chau
Speaking to Tudum about reuniting the cast, O'Malley said: "They've all gone on to do incredible things, but to me, they're family. There — to this day — is still a group email with the entire cast on it, that's been going since 2010. I was happy to be able to reach out to everyone with the news that we had finally come up with a way to continue the adventure. Seeing (and hearing) everyone come back to their roles has been a true pleasure."
Scott Pilgrim Takes Off plot: Is the same as the movie?
As seen in the trailer, there's a couple of identical scenes from the original Scott Pilgrim vs. the World movie, but with eight episodes in the series, it looks like it might feature some more scenes from the original comic.
One thing we know for sure: It's not a sequel to the movie. Speaking to Tudum, Edgar Wright said: "I knew that a live action sequel was unlikely but I would usually defer by suggesting that perhaps an anime adaptation was an interesting way to go."
The eventual anime series is "an idea that was way more adventurous than just a straight adaptation of the original books."
The trailer doesn't give much else away, so we'll have to wait until November 17th so find out what the show includes!
Is there a Scott Pilgrim Takes Off trailer yet?
Yes! The first trailer was released on August 17th and gives fans the first look at the incredible animation style and return of the original actors in voice roles. Watch it at the top of the page.
NCT DREAM vs. 'The Most Impossible NCT DREAM Quiz' | PopBuzz Meets