JK Rowling Almost Put A Weasley In Slytherin Because She Has No Chill
19 December 2016, 11:40 | Updated: 8 May 2017, 17:09
She was basically the Slytherin version of Hermione.
Can you believe it's 2017 in a few days and we're still getting new information about Harry Potter? It never seems to stop! In fact, it's been recently rediscovered that JK Rowling once had different plans for your favourite wizarding family and they were very dark indeed.
Back in 2000, when barely any of us had the internet, let alone were old enough to use it, Rowling did an interview with Entertainment Weekly and revealed a few juicy facts about her mind-blowing book series, Harry Potter - you may have heard of it?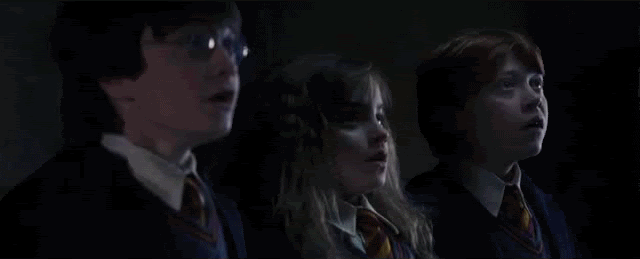 via giphy.com
In the interview, she revealed that she had written a member of the Weasley family into Slytherin house. A Weasley? In Slytherin? Don't make me laugh! That's not where the revelation ends though, the Weasley in question also had a very close relationship with Voldemort's Death Eaters. *sweats*
While writing Goblet of Fire, Rowling revealed that she needed an evil character to deliver outside information about Harry to the Death Eaters before the final round of the Triwizard tournament. That's when she created Mafalda, the ~Slytherin Weasley~. Mafalda was the daughter of the 'second cousin who's a stockbroker' mentioned in Philosopher's Stone and we said to be 'the most unpleasant child Mrs. Weasley has ever met.'
via giphy.com
Sadly, or thankfully more like, Mafalda got the chop before the book was published. Rowling then explained the reason she ended up scrapping her: "She served the same function that Rita Skeeter now serves. Rita was always going to be in the book, but I built her up, because I needed a kind of conduit for information outside the school. Originally, this girl fulfilled this purpose."
Jeez, what a close call for Team Weasley! Our story does not end here though. Rowling then revealed that Mafalda was also a pretty decent match for our precious Hermione.
"The best thing about Mafalda was that she was a match for Hermione. To the latter's horror, Mafalda was highly gifted and a real show-off, so that Hermione was torn between deploring the rule-breaking and longing to join in and beat her."
*whispers* Oh my god...
After sparing Hermione of a rival in both nerve and intelligence, Rowling ultimately went on to bestow the name 'Mafalda' on everyone's low-key fan fave Mafalda Hopkirk. In the end, everybody wins.
via giphy.com
___ ___ ___ ___ ___
Catch Zara Larsson on the #PopBuzzPodcast right now. Subscribe for free on iTunes to get new episodes sent straight to your phone every Wednesday.