Selling The OC season 3 release date: When does it come out on Netflix?
17 November 2023, 12:18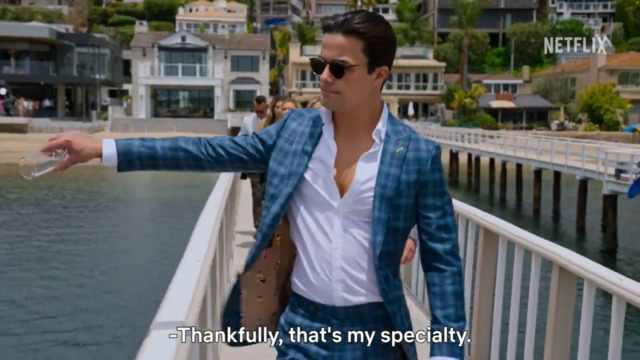 Watch the trailer for Selling The OC season 3
Selling The OC season 3 is set to be released in 2024. Here's everything we know so far, including whether Tyler Stanaland and Alex Hall are together.
It's official - Selling The OC is set to return for season 3 and based on the trailer, it looks like all hell is about to break loose in the Oppenheim Group office.
Selling The OC follows the likes of Alex Hall, Tyler Stanaland, Polly Brindle, Alexandra Jarvis, Kayla Cardona and Gio Helou (to name just a few of the OC O group agents...) as they go about their lives, selling real estate, causing drama and occasionally hooking up with each other. (Tyler and Alex, we're looking at you!)
Season 3 is set to drop of Netflix soon, but when does it come out? Selling Sunset's explosive season 7 reunion gave us our first look at what's to come – here's everything we know about the release date and which agents are returning.
When does Selling The OC season 3 come out?
Selling The OC release date: When does it come out on Netflix?
There's no official confirmed release date for Selling The OC just yet, but it'll likely drop on Netflix at some point in 2024.
New cast member Alexandra Harper wrote on Instagram that she had heard it would be released in February 2024, but that remains unconfirmed.
While the release date is currently unknown, the good news is that Selling The OC season 3 has officially finished filming, which means the season is ready to go. The trailer has also been released which means it shouldn't be too much of a wait.
Selling The OC filming: When did filming take place?
Filming for season 3 began immediately after filming on season 2 wrapped, picking up right after Tyler and Alex's hot tub kiss and the fallout of Alex and Brandi's friendship.
In a livestream posted on Alex Hall's Instagram account in September 2023, the cast confirmed that filming was still taking place but was close to finishing. New cast member Alexandra Harper also appears to have confirmed she finished filming in September 2023.
In October 2023, Tyler Stanaland actually left the Oppenheim Group to work alongside his father at a rival agency. It's possible that the cameras were there to film his departure, hinting at October being the wrap date for the season.
Selling The OC cast: Who is returning and who is leaving?
It looks like all the main Oppenheim Group players will be returning for Selling The OC season 3, alongside Jason and Brett Oppenheim. Here's the full cast list:
Alex Hall
Tyler Stanaland
Brandi Marshall
Polly Brindle
Gio Helou
Kayla Cardona
Alexandra Jarvis
Alexandra Rose
Austin Victoria
Sean Palmieri
Lauren Shortt
Alexandra Harper will also be officially joining the cast in season 3, after making a short appearance in season 2.
Mary Fitzgerald from Selling Sunset will also make an appearance in season 3.
What happens in Selling The OC season 3?
Based on the trailer that has now been released, it looks like Selling The OC season 3 will be full of even more drama than the previous two seasons combined!
Alex and Tyler's relationship looks like it takes a nose dive after Alex is seen telling him that he "swooned" her and then "disappeared". At the end of the trailer, the two share another kiss at a party but we'll have to see how that all ends. (SPOILER ALERT: It doesn't end well. Alex revealed Tyler had blocked her and no longer speaks to her!)
Kayla and Gio get into a heated verbal fight, while Austin and Sean get into an intense physical fight.
Alexandra Harper joins the O Group as the new agent and is given the lay of the land by Gio, who warns her about becoming friends with Kayla. She later gets into a disagreement with Alex Hall.
Drama! And we can't wait to see how it all unfolds.
Read more about Selling Sunset here:
Madison Beer Explains Every Song On 'Silence Between Songs' | Making The Album