Are Tyler Stanaland and Alex Hall dating? Selling The OC couple explain relationship
17 September 2023, 15:59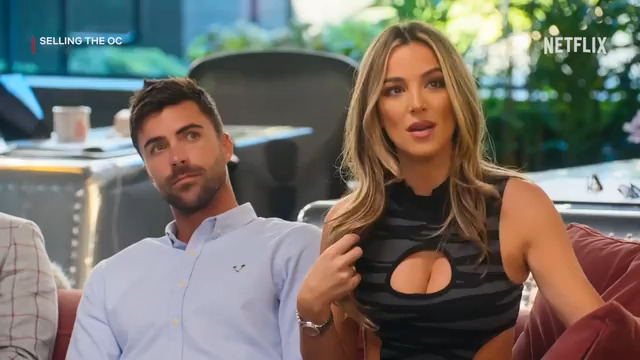 Watch the Selling The OC season 2 trailer
Are Tyler and Alex Hall together after their kiss in season 2? The duo tease what's ahead in Selling The OC season 3 for their relationship.
After binge-watching the drama-filled second season of Selling The OC, the question on everyone's lips is: Are Alex Hall and Tyler Stanaland actually a couple? Are they together?
In case you haven't been keeping up with the other Oppenheim Group real estate office, Selling The OC returned for season two on September 8th, and picked back up with Tyler going through his divorce with actress Brittany Snow.
Shortly after season 1 aired in 2022, Brittany and Tyler announced their separation after just two years of marriage. The news came after Tyler confessed that Kayla Cardona tried to kiss him twice, but it's been reported that none of that was the reason for the break up.
READ MORE: Why did Tyler Stanaland and Brittany Snow divorce? Here's what he reveals in Selling The OC
In season 2, viewers watched as both Tyler and Alex continued their flirtatious friendship. And in the final episode of the new season, Tyler confessed his feelings for Alex in a hot tub at a party. She reciprocated those feelings, and they kissed.
Of course, fans are now desperately trying to find out if Tyler and Alex have made it official. But Tyler is apparently playing coy when it comes to speaking about the status of their relationship...
Speaking to US Weekly about whether or not he and Alex had moved forward with the romantic aspect of their relationship, Tyler said that they are in the friend zone for now.
"I think we're still navigating our friendship," he told the outlet. "Obviously, you see in season 2 [that] we explore some things. It leads to a steamy moment and I think we're still kind of trying to figure it out, but we remain really close friends and I don't have an answer for you at the moment."
Alex also teased that fans will have to "stick around [for] season 3" to find out if she and Tyler are together.
"You see throughout season 2 the dynamic of our friendship, and it's easy and it's comfortable because there it is, just that. It's a friendship. There's no strings attached and I think adding that other element is scary," she said. "Some things are awkward, you know what I mean? And you can't avoid it. So we're just navigating."
In an interview with Entertainment Tonight, the two confirmed that they were not an official couple... yet. "We are navigating our friendship right now. That's our priority," Alex said.
While it seems like Tyler and Alex are keeping their relationship on the DL at the moment, Polly is clearly loving the hype surrounding the possible couple.
In a livestream posted on Alex Hall's Instagram account on September 10th, there were plenty of comments and innuendos from Polly about Alex and Tyler, or "Tylex" as a calls them.
The duo also acknowledged the questions about their relationship but did not answer any of them on the livestream.
READ MORE: Selling Sunset's Chrishell Stause exposes Nicole Young with text screenshots amid feud
READ MORE: Selling Sunset's Chelsea Lazkani says Davina Portraz threw "microaggressions" at her off camera
Olivia Rodrigo vs. 'The Most Impossible Olivia Rodrigo Quiz' | PopBuzz Meets