Selling Sunset's Christine Quinn might get her own show and we're ready
4 September 2020, 17:12 | Updated: 24 November 2021, 21:27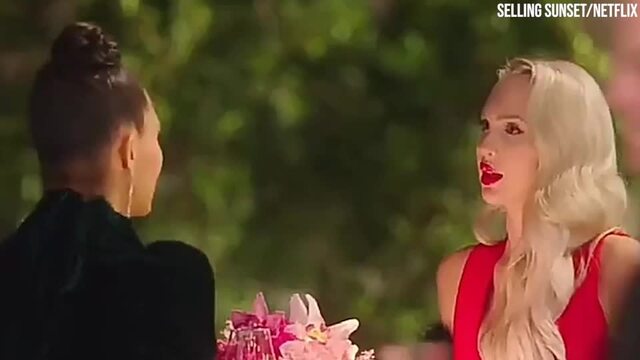 Selling Sunset's Christine Quinn calls out Amanza Smith over drama with Mary Fitzgerald
Honestly, it's what we deserve.
Since Selling Sunset dropped on Netflix in August the world has been obsessed. Providing a welcome distraction from all the chaos going on right now, Selling Sunset allows us mere mortals to gawk at luxury properties and delve into the drama-filled lives of Los Angeles' property socialites. Yes, we have serious Selling Sunset withdrawals after blitzing through it in one day (roll on Selling Sunset Season 4).
However, there's one standout star on the show whose name is constantly on the internet's lips – Christine Quinn.
Known for her iconic one-liners, impeccable style (hello, that black wedding dress!?), and… tendency to rub her co-stars up the wrong way, there's no doubt that Christine is one to watch. But, could fans be finally getting what they deserve? Imagine, a one-woman Christine show.
READ MORE: Selling Sunset's Jason Oppenheim denies Mary and Romain's wedding was fake
Well, in a new interview with Vogue, Christine opened up about extremely personal aspects of her life like having never had a proper education after dropping out of school to care for her sick mother, being a self-made millionaire before marrying retired tech millionaire Christian Richard and her love of being called a bitch. But Christine also discussed the possibilities of ditching the Selling Sunset cast and having her own show one day.
"Real estate will always be a part of my life because it's something I love and it's something you can do under your own steam," she explained, while discussing her future ambitions. "I'm starting a new business of my own – the details are to be confirmed because I'm working on my branding, visual and verbal identity. Inclusivity and diversity are important to me, so I want to work on all of those aspects that come with having a company before I throw something into the world.
"Having kids in a year or so would be amazing – imagine little Christines running around? But all in due time. A spin-off solo show would be a great idea. I'm so tired of sharing screen time with those five other bitches – I'm done. Give me my own show already!"
You heard her Netflix, we need to see more Christine pronto.
READ MORE: QUIZ: Which Selling Sunset cast member are you?