Selling Sunset season 3: Release date, spoilers and news about the Netflix reality show
28 July 2020, 16:02 | Updated: 24 November 2021, 21:27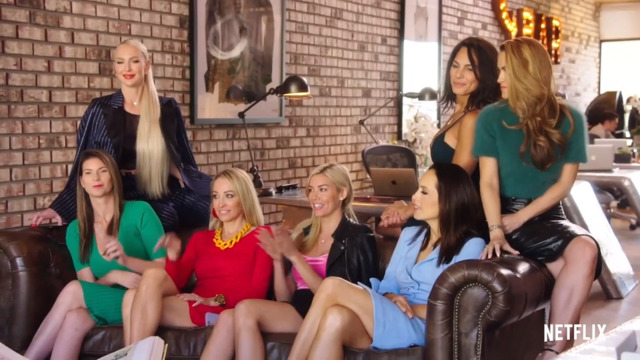 The official trailer for Selling Sunset season 3
The crazy antics of the Oppenheim Group are back as Selling Sunset season 3 hits Netflix on August 7. Here's everything you need to know about what's going down, including Christine's wedding and Chrishell's divorce.
It's been only two months since Selling Sunset season 2 dropped on Netflix, but everyone went so wild for the antics of The Oppenheim Group's employees (and they're incredible houses) that season 3 is already well on its way. It's coming August 7 to be exact.
If you're not familiar with Selling Sunset, the luxury property meets Real Housewives show follows a group of real estate agents selling multi-million dollar homes to celebrities and the super-wealthy. Of course, while we love seeing the incredible properties on offer (and wait to find out if anyone did sell that $45 million mansion), we can also rely on the show for a hefty side of drama.
Featuring a number of LA-stereotypical women with lots of money and lots of gossip, the main attraction of the show is no doubt the arguing and over-the-top lifestyles of those behind the sales.
Here's what we can expect from season 3...
READ MORE: Netflix is adding a 'shuffle' button for when you can't decide what to watch
When is Selling Sunset season 3 coming out?
Selling Sunset season 3 will drop on Netflix on August 7, just two months after season 2. There's been no confirmation of a fourth season yet, but given the show's popularity, we'd be very surprised if it wasn't already in the pipeline.
How did Season 2 of Selling Sunset end?
Season 2 of Selling Sunset left us on a huge cliffhanger, after the events of Mary and Romain's wedding. Before the ceremony, there was already tension brewing, as Davina got snubbed of an invite and the Oppenheim girls begin gossiping at the reception in front of the bride.
Mary had supposedly chosen to have a second bachelorette party and not invite any of the girls except Chrishell, and they seriously weren't happy about it.
Of course, as the only one invited by Amanza to the second party, Chrishell went to Amanza at the wedding to talk about Christine's feelings towards Mary, and that she'd called her a "f**king idiot" before going to the wedding.
We can expect some serious drama in the upcoming episodes, as Amanza ends season 2 by saying, "I'm not going to say anything tonight because it's Mary's wedding but...I will."
What will happen in season 3 of Selling Sunset?
Selling Sunset Season 3 | Official Trailer | Netflix
Well, according to the trailer "the homes are bigger, the land is getting bigger, and the commission is bigger." Season 3 will follow the events after Mary's wedding (and Christine's comments about her), as well as Chrishell's sudden divorce from husband Justin Hartley.
We'll also get a glimpse of Christine's super over-the-top wedding to her multi-millionaire partner, and of course, the drama that will no doubt unfold with it. While Chrishell gets an invite to Christine's wedding, in the trailer we see the blonde bombshell getting annoyed that the plans for her big day are being overshadowed by Chrishell's divorce, and the spotlight being on her. We can't wait to see how this plays out, especially since Davina confronts her that "Justin has his side of the story" and we see her walk out of Christine's wedding upset.
Oh, and the $45million house has finally sold! We'll let you watch the trailer if you want to find out who did the deal.
READ MORE: QUIZ: Answer these questions and we'll reveal what Netflix show you should be in