Selling Sunset season 4: Release date, cast, spoilers and news
14 September 2020, 14:49 | Updated: 24 November 2021, 21:24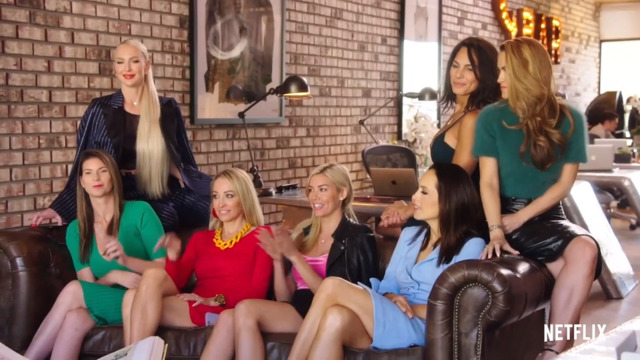 The official trailer for Selling Sunset season 3
The crazy antics of the Oppenheim Group are back as Selling Sunset season 3 hits Netflix and we keenly await season 4. But what will go down next season? Who's leaving? Here's everything you need to know.
Season 3 may have only just dropped, but it's safe to say that the world is eagerly waiting for season 4 of hit Netflix series Selling Sunset to hit the platform.
If you're not familiar with Selling Sunset, the luxury property meets Real Housewives show follows a group of real estate agents selling multi-million dollar homes to celebrities and the super-wealthy. Of course, while we love seeing the incredible properties on offer (and wait to find out if anyone did sell that $75 million mansion), we can also rely on the show for a hefty side of drama.
Featuring a number of LA-stereotypical women with lots of money and lots of gossip, the main attraction of the show is no doubt the arguing and over-the-top lifestyles of those behind the sales. Here's what we can expect from season 4...
READ MORE: QUIZ: Only a Selling Sunset expert can score 100% on this trivia quiz
When is Selling Sunset season 4 coming out?
Given that season 3 made its debut just days ago, we're not entirely sure. In fact, Netflix hasn't even confirmed its renewal, but based on its popularity and the fact that every season has made it into the top 10, we're sure it won't be far off.
Queen of drama Christine Quinn has also hinted that the only reason we haven't had a preview yet is because of coronavirus.
"Unfortunately, it has been affected. So usually, we get picked up after the show airs," she told Grazia in June. "You know, we'll hear some information, some rumblings. With Season 2 being in the top 10 [on Netflix], I think we're definitely going to get picked up. But everything has been setback due to COVID-19. We're going to shoot next year now, I'm hearing. We have such a big production, there's so many people on our crew. I don't think we'd be filming this year."
In fact, Mary Fitzgerald has also added that the show could unexpectedly be cut short. Speaking to Bobby Norris and Stephen Leng on FUBAR Radio's Access All Areas, Mary explained: "Netflix, they have their own way of doing everything and they have to see ratings, it takes them a certain amount of time and even if we're all very confident that it's going to get picked up, it's done so much better than season one and two, so we're pretty certain it's going to but we don't have the green light just yet."
The suspense!
How did season 3 of Selling Sunset end?
With drama, of course! After a season of ups and downs, from the brokerage having its biggest ever year, to Chrishell Stause's untimely divorce from her husband Justin Hartley, the final episode went out with a bang at Christine's wedding.
During the ceremony to her millionaire tech husband, the 31-year-old of course went all out (they spent over $1million on the big day), with swans, snow falling as she walked down the aisle, and two wedding dresses, naturally. Despite Chrishell's turbulent relationship with Christine and her pending divorce, she made the effort to turn up, before things went seriously south as Davina suggested that "no one knows the full story". Shady.
Chrishell storms out of the wedding, and the group quickly turns their backs on Davina for her undue remarks, so it's safe to say we can expect a lot of falling out next season.
Which Selling Sunset cast members will return for Season 4?
Good news! All your favourites will return for Season 4. During an interview on Good Morning Britain, Brett Oppenheim confirmed that the entire cast would be returning for Season 4. He said: "Everybody is going to be around." Bring on Chrishell vs Christine round 20.
What will happen in season 4 of Selling Sunset?
Of course, there's no official trailer yet, but we've got some pretty good predictions.
During the show, there were lots of references to Heather's strengthening relationship with boyfriend Tarek El Moussa, and as she caught Christine's bouquet at her wedding, there's a big inkling that we'll get a closer look into her new engagement.
Given that we saw Mary's wedding in season 2 and Christine's in season 3, there's no reason why Heather won't be a huge plot point in the next season.
Despite the grandeur of this season's wedding, there's one other question on every Selling Sunset fan's mind right now: Is Christine pregnant?
That's also being kept under wraps, but she did talk of symptoms as she went for her final wedding dress fitting. Given that filming is currently on hold, we'll probably find out on Instagram about that one first.
There's also speculation that there's tension between the Oppenheim Group, as Brett recently opened his own separate brokerage under "Oppenheim Real Estate", which could see the brothers go their separate ways.
Maya also spoke extensively during season 3 about permanently relocating to Florida once her second baby arrived, and potentially opening a new Oppenheim office there, or getting her broker's license and going solo.
This one's going to be juicy.
READ MORE: QUIZ: How well do you remember all 6 seasons of Gossip Girl?