Space Jam Live Is Coming: Y'All Ready For This?
25 January 2016, 12:52 | Updated: 8 May 2017, 17:09
Who is in our dream cast?
Our dreams have been answered - on February 13th, as part of the TIFF Next Wave Film Festival in Toronto, a live 20th anniversary reading of the seminal intergalactic basketball cinematic classic Space Jam will take place featuring "an exciting lineup of talent from the sports and entertainment worlds".
We have no official word yet on who that "exciting lineup" might consist of but thats not going to stop us getting over-excited and making our own predictions. So, presuming none of the originals will be available, who should be in the new lineup of Space Jam?
"Michael Jordan" read by Lebron James
Lebron killed it in Trainwreck last summer as the hilarious, caring and protective friend of Bill Hader's love-interest figure. Plus, a Space Jam sequel featuring Lebron has been touted for years and this would be an appropriate warm up for the NBA all star.
"Bill Murray" read by Bill Hader
Not only a good excuse to re-pair this Trainwreck double act, Hader is also the obvious heir apparent to Bill Murray's throne as the go to grumpy, sarcastic charmer of comedy.
"Mr. Swackhammer" read by Samuel L Jackson
Originally portrayed by Danny DeVito, Samuel would bring that extra bit of menace to the role. Plus, it is the unspoken law of Hollywood that he must appear, or at least be offered an appearance, in everything currently in production.
Lola Bunny read by Emma Stone
Remarkably similar looking (its the big eyes), Emma would be the perfect match for Bugs Bunny and has proven time and again that her comic timing is second to none.
The Rest Of The Looney Tunes by Brian Hull
Nailed it.
BONUS: let's recast the soundtrack
"I Believe I Can Fly" by The Weeknd (super smooth).
"Fly Like An Eagle" by Justin Bieber feat. Halsey (so many emotions).
"Space Jam" by P!ATD feat. The 1975 (a bop).
"Hit 'Em High (The Monster's Anthem)" by Twenty One Pilots (gangsta).
Who else would you cast in the reading? And would you go see Space Jam 2?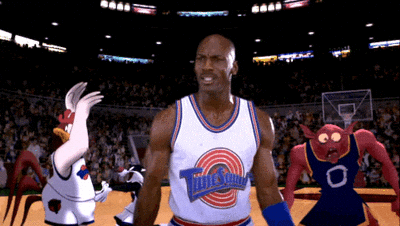 Reddit