The new SpongeBob movie will be released on Netflix but not in the US
16 July 2020, 13:24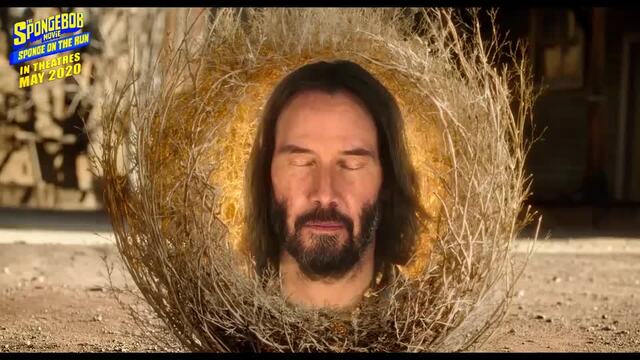 Watch the trailer for SpongeBob: Sponge on the Run starring Keanu Reeves
It's official – SpongeBob: Sponge On The Run is coming to Netflix!
And now for some good news! After being delayed due to the worldwide closures of cinemas amid the coronavirus pandemic, the brand new SpongeBob movie will now be released internationally on Netflix.
According to Variety, Netflix have picked up the international rights to the movie, meaning it will be available to stream on the platform everywhere except the US, Canada and China. (Netflix is currently not available in China.)
As reported by Variety last month, US viewers will be able to watch Sponge On The Run on VOD services, as well as CBS All Access, at some point in early 2021. Canada will also reportedly have a separate release, after which you'll be able to watch it on Netflix.
As of right now, there is no confirmed release date for the film on Netflix. It was originally set for release on May 22nd, and then pushed back to August 7th.
READ MORE: A SpongeBob Squarepants spin-off about Squidward is coming to Netflix
The official synopsis of the film reads: "SpongeBob and Patrick travel to the lost city of Atlantic City to solve the mysterious kidnapping of Gary the snail. They soon prove that there's nothing stronger than the power of friendship as they encounter danger and delight at every turn."
The movie will also reportedly reveal SpongeBob and Gary meeting for the first time as children.
The film stars Tom Kenny and Bill Fagerbakke as SpongeBob and Patrick, alongside all the other iconic voice actors who bring the TV series to life. Keanu Reeves, Awkwafina, Snoop Dogg and Reggie Watts also have roles in the film.
Back in 2019, it was announced that a SpongeBob spin-off about Squidward was in the works at Netflix.
In November, Netflix and Viacom-owned Nickelodeon announced a multi-year partnership that would see them team up for original shows and films based on existing and new Nickelodeon characters.
According to The New York Times, the Squidward spin-off is set to be "a music-based project".
No updates on that project just yet but in the meantime, we can now all enjoy the long-awaited SpongeBob x Keanu Reeves collab from the comfort of our own homes.