Drama Geeks Hate This IRL "Glee" So Much They Want It BANNED
8 September 2016, 16:50 | Updated: 8 May 2017, 17:09
Stage School has been causing controversy right from the first episode...
Theatre kids have always been known to be dramatic to say the least. It's kind of an important part of the job. But a new TV show has taken the acting world's penchant for high stakes theatricality to a whole new level.
E4's Stage School is a "structured reality" (fake) TV doc following the day to day lives of drama students at a performing arts college in Kent and is about as subtle and nuanced as a Las Vegas production of Cats. On ice. Drunk.
Which, tbf, means it's also pretty fun to watch. At least, unlike other fake reality docs, this lot are actually believable as human beings, albeit horribly insecure, bitchy and borderline sociopathic ones. Must be all that acting "talent" they've got.
Who would've thought that a scripted reality tv show about performing arts students would have the worst acting and writing #stageschool

— Natalia Knowlton (@NataliaKnowlton) September 8, 2016
Actually feeling pretty inspired after watching Stage School. Inspired to gauge my own eyes out and shove them in my ears.

— Stagey Snob (@StageySnob) September 5, 2016
#StageSchool is insulting to the hardworking, level headed, supportive, talented, affable people who train at drama schools. So angry.

— Zo (@ZoWatson) September 5, 2016
But not everyone in the theatre community has seen the funny side and now a petition has emerged calling for E4 to cancel the programme due to its "complete misrepresentation of training in the arts". At the time of writing, it has amassed close to 6000 of its target 7500 signatures in just under 48 hours.
Set up by actor Roddy Lynch, the petition calls for an end to the show's "mindless propaganda".
As a person who has experienced drama training in the UK, I can honestly say that the show is a complete misrepresentation of training in the arts... If this show is to stay on the air, it leaves a massive risk of deterring young people who are thinking of training for a career in the arts due to being fed a total misrepresentation of what drama training is actually like.

Roddy Lynch, Change.org
Ok, Roddy, yes, it's not strictly the real thing and many comments under your post all back up your point of view. Saying that Stage School represents actual stage school is like saying Jersey Shore is an accurate tourist board film for the East Coast of America.
tumblr
But, as another person who "has experienced drama training in the UK", I can safely say that I recognised many of the characters and themes on screen. The bitchy backstabbing? Check. The highly pressurised environment. BIG tick. Has it been heightened for entertainment purposes? Of course. But to suggest it is somehow damaging to the theatre and entertainment industry at large is kind of insane.
This is your 1 HOUR WARNING! #STAGESCHOOL starts on @E4Tweets in 1 hour!pic.twitter.com/qx57Ytm1nC

— STAGE SCHOOL (@E4StageSchool) September 5, 2016
Did The X Factor kill the music industry? Will the National Theatre and Broadway now only employ you based on your ability to sing Sia in the shower while a camera crew zooms in from the corner of the room (this actually happened in ep1 btw)? Are actors really so fragile and humourless that they find this reality fluff, laughed at by all who see it, as some kind of genuine insult?
darrencriss-gifs.tumblr.com
Many argue that this negative image makes it harder for kids who want to go into the arts to be taken seriously. Let's be clear though - we've been here before. Theatre and drama school has been ridiculously portrayed on TV for years via the likes of Glee (god bless you Darren Criss, you were our only saviour) and Smash (nice singing, shame about the plot) and although Stage School is technically grounded in "reality", if we file it in the same comedy/drama bracket as those previous shows, you might just discover your next big guilty pleasure.
In short, actors need not worry that the public won't see through this sh*tshow. Because, thanks to years of tuition by actor extraordinaire Joey Tribbiani, we've all got pretty good at smelling the fart.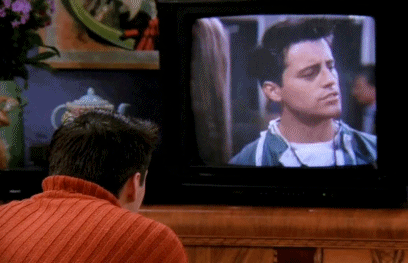 NBC, tumblr
What do you guys think? Does Stage School deserve to be banned? Let us know below.