The Internet Has Turned Steve Harrington's Hair Into A Meme And It's Glorious
1 November 2017, 13:24 | Updated: 7 November 2017, 16:45
Harrington? More like HAIRington.
Steve Harrington's hair may not have its own acting credits or IMDb page, but it was certainly one of the breakout stars of Stranger Things 2.
In season 1 Steve had a serious coif/helmet hair situation happening.
via Netflix/Stranger Things
In season 2, I am almost POSITIVE I heard Steve's hair feeding Joe Keery his script lines.
via Netflix/Stranger Things
Finally, people are coming to the collective realisation they got into Stranger Things for the gripping storytelling and phenomenal acting, but STAYED for Steve Harrington's hair.
Can we just talk about how Steve Harrington's hair is even more glorious this time around? #StrangerThings #S2 pic.twitter.com/49JLE4fQ8E

— SleepAwayCampkeesley (@campkeesley) October 30, 2017
┏┓
┃┃╱╲ In this
┃╱╱╲╲ house
╱╱╭╮╲╲ we love
▔▏┗┛▕▔ & appreciate
╱▔▔▔▔▔▔▔▔▔▔╲
Steve Harrington
and his hair
╱╱┏┳┓╭╮┏┳┓ ╲╲
▔▏┗┻┛┃┃┗┻┛▕▔

— Your Adversary Maxie (@MaxieSatan) October 31, 2017

I just...?

Even off-duty Joe has been known to come through with an iconic hair moment or two.
Of course, Steve ended up sharing his hair secrets with Dustin and they were as weird and specific as we'd hoped.
"It's Fabergé Organics," Steve tells Dustin. "Use the shampoo and conditioner, and when your hair's damp, it's not wet, okay? When it's damp, you do four puffs of the Farrah Fawcett spray."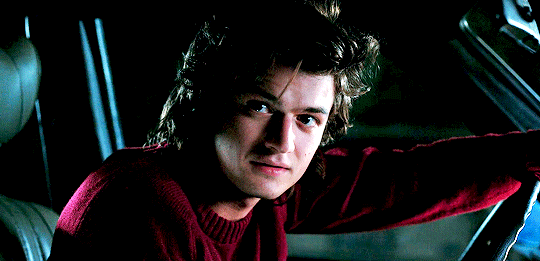 via Netflix/Stranger Things
tfw it's 2017 and all of Steve Harrington's hair care products have been discontinued pic.twitter.com/eGwgKkJl6B

— Purr-cules (@Purrcules) November 1, 2017
If you see my hair looking voluminous and full of definition, just know that it's because I've adopted Steve Harrington's routine xoxo

— Lillian (@nightnightlilly) October 31, 2017
Watching Stranger Things 2 and just imagining what running my hands through Steve Harrington's hair would feel like

— Hannah Young (@hyoung2626) October 31, 2017
i trust steve harrington's hair with my life

— Anelien (@cupcakelogic) November 1, 2017

Honestly, now that Steve Harrington's hair is in our life, we don't think we can ever go back.