OMG! There's Gonna Be A Surprising New Love Triangle In "Stranger Things" Season 2...
25 January 2017, 12:43 | Updated: 7 November 2017, 16:54
Hold onto your trucker caps, kids!
I don't know about you but the only thing that's getting me through 2017 right now is the thought of returning to Hawkins, Indiana and running straight into the arms of my new best friends, Mike, Dustin, Lucas and Eleven.
It's been a hot minute since someone has revealed any information about the who, when, why and whats of Stranger Things season two, hasn't it? We've had casting updates and 'leaked' snaps from the set but like, that's it. UNTIL NOW THAT IS...
Some new information has been shared with the world about one of the storylines that'll start brewing in season two and it's all thanks to Chief Hopper. David Harbour, who plays our favourite fictional 80's policeman, spilled the tea while on board the 'Fan2Sea' Comic Con cruise and revealed that there will be a new love triangle coming to our screens next summer.
Step aside Nancy, Jonathan and Steve - Joyce Byers is about to bring all the boys to her yard.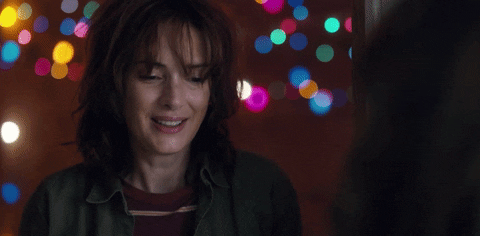 Netflix / via giphy.com
Yep, Will's mum, played by the effortlessly talented Winona Ryder, will reportedly find herself stuck in a love triangle with Chief Hopper and a new character played by Sean Astin. (Side note: we were really hoping the new love triangle would involve Eleven, Mike and one of the other boys… but whatever.)
Harbour revealed on the cruise that Astin will be playing "Winona's new boyfriend — much to the chagrin to the Chief of Police." WHAT?!
Bob Newby (that's Astin's character name btw) is a former classmate of the Chief and Joyce who works at the Radio Shack in Hawkins and obviously manages to woo Joyce with the latest range of walkie talkies.
Last season, we were pretty convinced that Joyce and Hopper would get together. I mean, not a lot really happened because there were bigger issues at hand (like missing children) but it was so damn obvious! What happened? How can we fix this? Who do we have to sacrifice to the Demogorgon to ensure they end up together?
Netflix / via giphy.com
Stranger Things season two will be set one year in the future - or, 1984 if you will. Harbour teased to the audience on board the cruise the implications of the events over the past year and how it's all affecting the town.
"It's a year later in the story, so there are several things that happened last year — like Will has come back — there are certain people in the town that know what happened, and then certain people that don't know what happened. So there's a lot of fall out with who knows what."
OMG, can Netflix hurry up please?!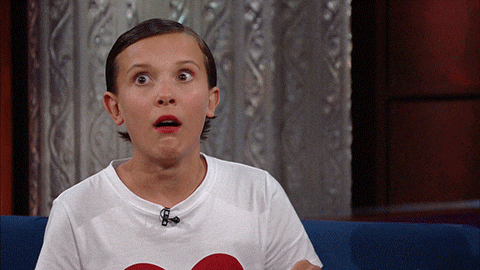 via giphy.com