"Stranger Things" Just Confirmed Some HUGE News And It's Gonna Make Your Entire Day
22 August 2017, 13:14 | Updated: 7 November 2017, 16:48
Back on my Demogorgon bullshiiiiiiiiiiiihhhh...
Grab your chopper and start peddling, boys because we're going back to Hawkins Indiana for round three.
Yep, before the second season has even had a chance to blow our minds with the truth behind Eleven's whereabouts and the aftereffects of the Upside Down on everyone's son, Will Byers, Netflix have already renewed Stranger Things for a THIRD season.
TNT / via giphy.com
The Duffer brothers have confirmed the news that the show will return to Netflix for season three, hopefully at some point towards the end of 2018. The pair have also previously revealed that season two will start to lay the groundwork for the eventual finale, presumably with a few more new storylines weaving through the characters arcs in season three before wrapping up.
"We sort of have a rough plan and I think the important thing for us was to really start to lay the groundwork this season for what would be the arc for the rest of the show," they told to Collider.
But with bloody GREAT news, also comes the sad, bittersweet news: Speaking to Vulture, the Duffer brothers have also announced that the show will *probably* end on a fourth season - although that's not yet confirmed. But that could mean, once season two has finished, there's only going to be, like... less than 20 episodes of Stranger Things left.
Netflix
To be fair, by the time they wrap up the story, our favourite bicycle-riding badass children will probably be getting ready to head to college so there's not gonna much reason to stick around in Hawkins anymore. And besides, these poor kids are gonna need a damn break from all this Demogorgon action more than you need a fifth season.
"I don't know if we can keep having something bad happen to them once a year," the brothers said. "They'll have to get the fuck out of town. It's ridiculous!"
Stranger Things returns to Netflix on October 27. See you all at Steve's next house party. We'll bring the booze. Stay away from the pool.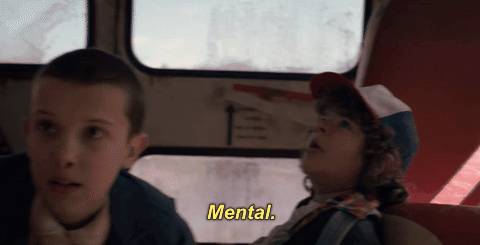 Netflix
____ ____ ____ ____ ____
Listen to the #PopBuzzPodcast with Riverdale's KJ Apa right here or subscribe for free on iTunes to get new episodes sent straight to your phone every Friday.