"Suicide Squad" Director Reveals His Biggest Regret About The Joker
23 January 2017, 14:18 | Updated: 8 May 2017, 17:09
David Ayer took to Twitter to share his thoughts on the much-maligned supervillain blockbuster.
Suicide Squad director David Ayer has revealed his biggest regrets about the much-maligned supervillain movie in an online post to fans.
Ayer responded on Twitter to a fan who praised the movie, which received mixed reviews from fans and critics alike, pinpointing a few areas that he wished he could change in retrospect.
So thankful for suicide squad @DavidAyerMovies exactly the way it is. It's a masterpiece, don't let anyone tell you otherwise!

— Jody (@PensFanboy) January 21, 2017
So what would David do different if he could make Suicide Squad all over again?
He'd give The Joker more screen time.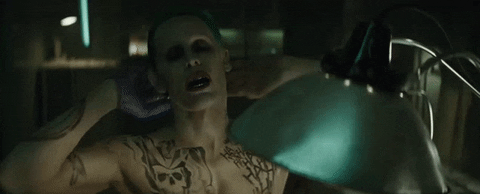 Warner Bros
Yep, that guy.
But Jared Leto's polarising portrayal of the iconic Batman villain does have its devoted fans and, as Ayer explains, making him more prominent may have helped the story to develop in a better way.
Wish I had a time machine. I'd make The Joker the main villain and engineer a more grounded story. I have to take the good and the bad and learn from it...(And no there isn't a secret edit of the film with a bunch of Joker scenes hidden in a salt mine somewhere).

David Ayer
Leto was said to be very unhappy with his scenes after the film's release. His performance, as well as those of Ben Affleck and Margot Robbie, are currently nominated for Worst Performance awards at the annual Razzies.
Read David Ayer's full message on Suicide Squad below: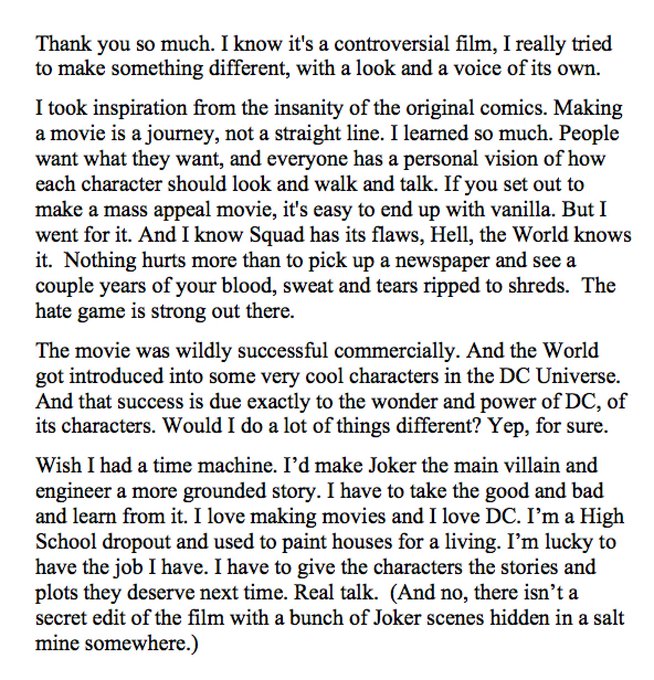 Twitter: @DavidAyerMovies
___ ___ ___ ___ ___
From Brendon Urie to The Vamps, here are the best bits from the #PopBuzzPodcast in 2016. Listen right here or subscribe for free on iTunes to get new episodes sent straight to your phone every Wednesday.