Donald Glover paid celebrities on Cameo to say they're part of the Swarm and it's hilarious
27 March 2023, 18:04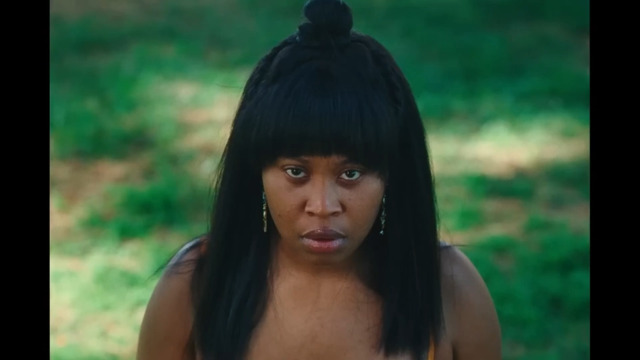 "Did Donald Glover just pay a bunch of people on cameo to say they rep the Swarm? Because I'm literally so into that marketing."
Swarm creator Donald Glover has taken the marketing of his show to the next level.
Created by Donald Glover and Janine Nabers, Swarm is Prime Video's new psychological thriller series in which a young woman's obsession with a pop star takes a very dark turn. A woman named Dre (Dominique Fishback) is fixated on a fictional singer named Ni'Jah (Nirine S. Brown), and her life revolves completely around her.
The show, which is heavily based on Beyoncé and the Beyhive, quickly gained a large fanbase and viewers have been flooding social media feeds with their thoughts on the six-episode series.
Also sharing there thoughts on Swarm are a bunch of celebrities, thanks to Donald's iconic marketing technique. The actor and singer took to personalised video platform Cameo to pay famous faces to promote the show for him.
READ MORE: Is Swarm based on a true story? The real life Beyoncé rumour that inspired the series
Following the release of Swarm, social media users noticed that Donald had deleted all of his old Instagram posts, and started posting Cameo videos of celebrities promoting Swarm to his Stories. It's unknown how many Cameo videos Donald requested to purchase - and it's worth noting that Cameo creators have the right to decline a video request - but he got many stars on board to speak about Swarm.
From Carole Baskin to Ceelo Green, Donald has certainly chosen a unique selection of celebs to promote his latest project. In the clips, the famous faces can be seen talking about The Swarm - which is the name of Ni'Jah's fanbase - and the best thing is, some of them probably don't even know about Swarm.
One TikToker posted a compilation of some of the best Cameo clips, and they did not disappoint.
In Carole Baskin's video, she says: "Swarm, hey, it's Carole Baskin. Showing some love to the best fanbase out there. No one knows loyalty like you guys,"
Meanwhile, Ms. Juicy said: "I just wanted to come and say I'm a part of 'The Swarm'. I wake up, eat, sleep and sh- and praise the queen".
TikTok users took to the comments to share their thoughts on Donald's clever marketing technique, showing appreciation for the celebrity videos.
One person said: "he putting the E in entertainment w this series". Another wrote: "The fact that some of them are mixing up Swarm with BeyHive. A third comment reads: "Lmaooo this is iconic". While, a fourth simply exclaimed: "NOT MS JUICY".
Donald Glover: actor, rapper, singer, producer, director, comedian AND marketing genius.
Read more Swarm stories here:
Penn Badgley vs. 'The Most Impossible Penn Badgley Quiz' | PopBuzz Meets