An 'Addams Family' TV Series Trailer Exists And We Need It Now
10 April 2017, 12:49 | Updated: 8 May 2017, 17:09
Fans are rallying Netflix to commission a reboot after a fanmade trailer went viral.
It seems like these days, every beloved book, comic or movie is at some stage of development into a big budget Netflix series for all us all to binge.
But while the rest of us make our way through the likes of 13 Reasons Why, A Series Of Unfortunate Events and the various Marvel series, one TV obsessive got tired of waiting and made their very own trailer for their dream Netflix adaptation...
A new series of The Addams Family.
Alexia Bertha posted their fanmade trailer to YouTube, perfectly casting Oscar Isacc and Eva Green in the lead roles of Gomez and Morticia. The clip quickly gained over 40,000 views and was widely shared on Facebook as eager fans tried to get Netflix to pay attention to the huge demand for the (fake) show.
Originally posted as a series of cartoons in The New Yorker, The Addams Family's macabre adventures were later adapted into a 1960s TV series, movie franchise, Broadway musical and spin-off animated series. Plans for an updated movie have been rumoured for years, with Tim Burton said to be interested in adapting it for the screen once again.
But, perhaps Alexia is right and Charles Addams' famous characters would be best utilised as part of a multi-episode Netflix-arc. The dark humour and gothic aesthetic certainly fits in with the current crop of original series. Plus the high budget and production values would be perfect for creating the appropriate special effects and attracting the star casting we'd all want to see.
So, are you excited for a possible The Addams Family reboot? Let us (and Netflix) know.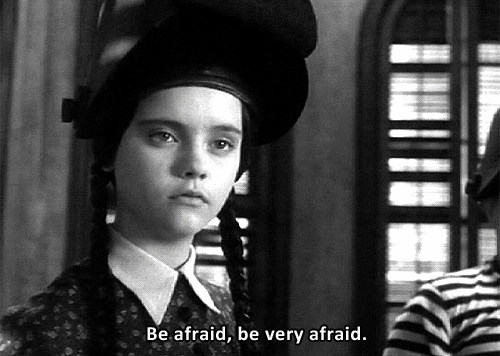 Paramount Pictures
____ ____ ____ ____ ____
Listen to the #PopBuzzPodcast with Scott Eastwood from Fast & Furious 8 and Suicide Squad right here or subscribe for free on iTunes to get new episodes sent straight to your phone every Friday.