The Last of Us fans are screaming and crying over Nico Parker's "perfect" performance
19 January 2023, 17:29 | Updated: 8 February 2023, 14:38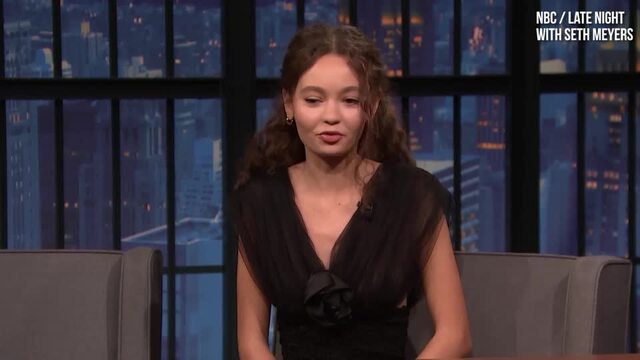 Nico Parker discusses growing up with famous movie parents
"Everyone's saying it but just in case it gets forgotten in future episodes, Nico Parker's performance in the pilot of The Last Of Us is unreal. Speechless."
The Last of Us finally premiered on HBO last week (Jan 15) and viewers already can't get enough of it.
Game of Thrones alums Pedro Pascal and Bella Ramsey play Joel and Ellie in the post-apocalyptic drama, while Gabriel Luna (Tommy), Anna Torv (Tess) and Merle Dandridge (Marlene) all appear in supporting roles alongside a handful of other cast members.
Fans and critics alike are massively impressed with the adaption and the performances so far, with a 99% critic rating and a 96% audience score on Rotten Tomatoes. But it's Nico Parker as Sarah, specifically, that has completely taken over social media after the first episode.
Nico only appears as Sarah for a very brief amount of time in the pilot, and her incredible performance has stopped viewers in their tracks.
WARNING: Spoilers ahead for The Last of Us episode 1.
The first episode of The Last of Us introduces Nico as Sarah Miller, Joel Miller's young daughter. Throughout the first 30 minutes or so, we watch as Sarah goes about her day, checking in on her neighbours and getting a watch repaired for her dad's birthday. Viewers immediately fall in love with her.
Later that night, all hell breaks loose and she's almost attacked by her elderly neighbour who has been infected. The infection spreads as they try to escape, and chaos ensues as crowds and crowds of people scramble to avoid being killed by the infected. Joel, Tommy and Sarah's car ends up being hit by the wreckage of an airplane that crashes nearby and Sarah gets injured.
Joel and Sarah then get chased by one of the infected before being saved by an armed soldier who kills the infected. Then, the soldier turns on them.
What follows is an absolutely devastating sequence featuring Joel, Tommy and Sarah that is pretty much shot for shot, frame for frame, of the scene in the actual game. After being shot by a soldier through fear they might be infected, Sarah dies in Joel's arms.
Pedro and Nico are absolutely stellar throughout the whole thing, and people can't stop talking about Nico's performance.
"Nico Parker as Sarah Miller was literally perfect casting," one user wrote. Another added: "Everyone's saying it but just in case it gets forgotten in future episodes, Nico Parker's performance in the pilot of #TheLastOfUs is unreal. Speechless."
Speaking to TV Guide, Nico revealed how she and Pedro went about filming that devastating death scene, and what advice director Craig Mazin gave them both in order to pull those performances.
"I remember Craig came over to us as a last prompt, and he turned to me and he goes, 'This is the most pain that you've ever been in in your entire life. This is the most excruciatingly painful thing that's ever happened to you,'" Nico explained.
"And then he said the same thing to Pedro. And for me, there's more of a physical aspect to it, but for Pedro there's more of an emotional pain. But I think the fact that it was the same sentence could be completely applicable to both of us. I was carrying that with me with every take that we did or anything. I tried to emulate that in what was happening."
The result? An absolutely heart-wrenching moment between Sarah and Joel that fans of the games and the show alike can't stop raving about.
READ MORE: The Last of Us' Bella Ramsey responds to cruel backlash over her Ellie casting
Margot Robbie & Diego Calva Pick Their Own Interview Questions | Babylon | PopBuzz Meets