'The Lion King' Cast Just Got Announced & People Are Freaking Out
2 November 2017, 11:44 | Updated: 4 November 2017, 18:10
With Donald Glover and ACTUAL BEYONCÉ on board, the memes are already lit even before we get our first trailer.
After months of whispers and speculation, Disney last night (November 1st) finally confirmed their full cast for the upcoming CGI "live action" adaptation of The Lion King, due for release in 2019. And, it's safe to say, director Jon Favreau and the casting team have basically nailed it...
Here is your cast - look upon them and weep: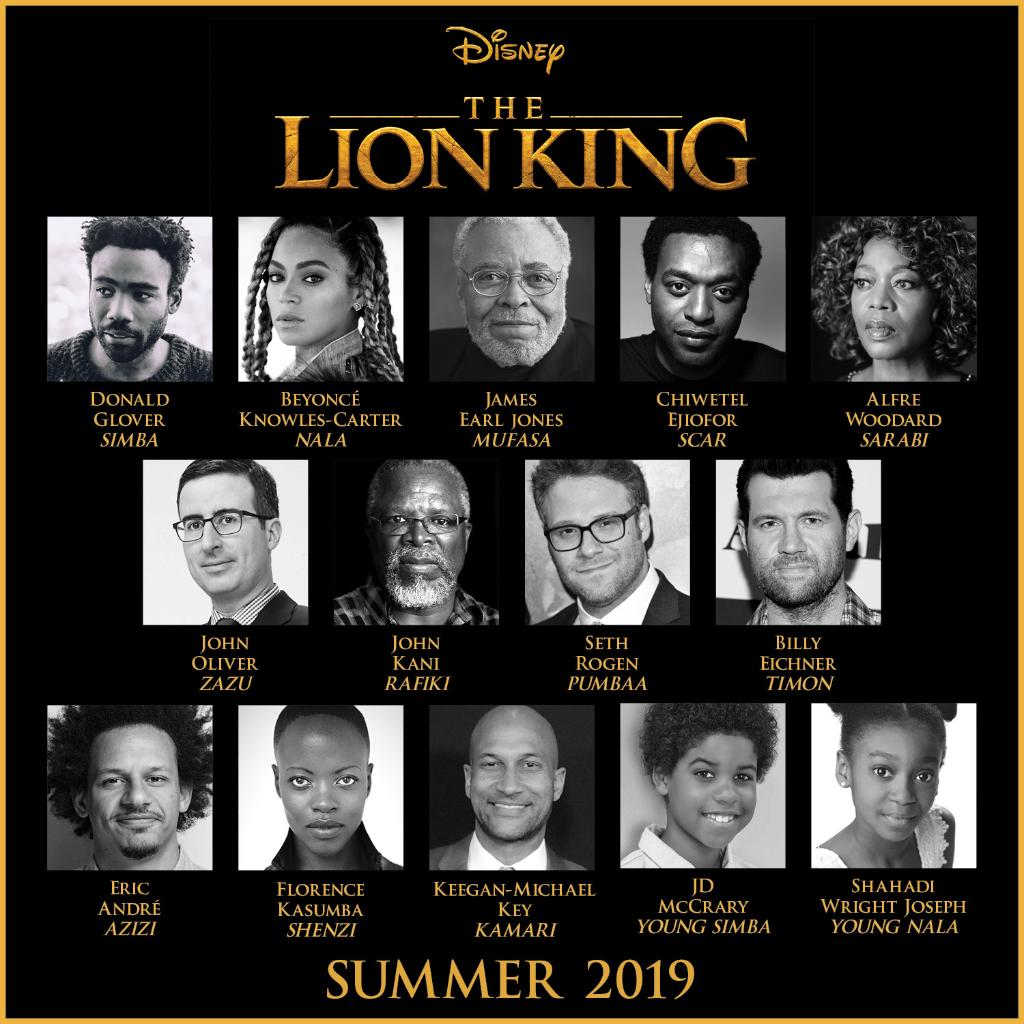 Disney
Pretty much perfect really isn't it?
Yes, joining the previously announced Donald Glover as Simba and original cartoon Mufasa James Earl Jones will be Chiwetel Ejiofor, John Oliver, Seth Rogen, Billy Eichner, Alfre Woodard, Eric Andre, Florence Kasumba, Keegan-Michael Key, John Kani, Florence Kasumba, JD McCrary and Shahadi Wright Joseph.
Oh, and somebody called Beyoncé.
nala: im here to bring you back home
simba: pic.twitter.com/yEoqBvl4BV

— aristotle (@butchdeIoria) November 1, 2017
Iconic.
In fact, it's safe to say that the internet is pretty excited about the whole thing, with the memes already rolling in:
gambino as simba. beyoncé as nala. seth rogen as pumba. biiiiiiiiiiiiitch wake me up when it's 2019 pic.twitter.com/kI6vy2qS2I

— jennifer (@jnnfrsbdy) November 1, 2017
Beyoncé a legend starring as a legend(Nala) in the most legendary Disney Film. Circle of life #TheLionKing pic.twitter.com/qXftWIDyaJ

— Johnny Boy (@JohnTheFame) November 1, 2017
With Beyoncé as Nala, can we just call it The Lion Queen?

— braden graeber (@hipstermermaid) November 1, 2017
Yelling at this accuracy.#TheLionKing #Beyhive#BeyonceAsNala pic.twitter.com/ELcIVznsXJ

— Shar (@SharSaysSo) November 1, 2017
How the Disney exec that closed Beyonce's Lion King deal was greeted when they came into work today pic.twitter.com/227IcvnQaE

— Matthew A. Cherry (@MatthewACherry) November 2, 2017
i'm realizing that with this lion king remake beyonce is gonna be singing "can you feel the love tonight" with donald glover and oh shit

— james (@strawberryjamal) November 2, 2017
Lion King (1994) vs Lion King (2019) pic.twitter.com/82ByHvhU2k

— renata's eyepatch (@_jamestgreen) November 2, 2017
The Hive on their way to watch The Lion King in theaters pic.twitter.com/wLNITmzZQs

— Andre (@hivelite) November 1, 2017
Where were you when you discovered Beyoncé is in the new Lion King

— Jamie McKelvie (@McKelvie) November 1, 2017
BEYONCÉ IS OFFICIALLY CONFIRMED TO BE PLAYING NALA IN THE LIVE ACTION LION KING OH mYGODDD pic.twitter.com/R4ppXV2vdx

— wiLL (@WillScheid) November 1, 2017
This movie needs to hurry the f*ck up frankly! If just a casting announcement can break the internet, imagine what'll happen when the trailer hits.
The Lion King will arrive in theatres on July 19th 2019.
____ ____ ____ ____ ____
Listen to the #PopBuzzPodcast with Camila Cabello right here or subscribe for free on iTunes to get new episodes sent straight to your phone every Friday.