'The Umbrella Academy' Season 1: Release Date, Cast, Trailers And Everything You Need To Know
19 July 2018, 15:14 | Updated: 10 December 2018, 16:03
All the latest information about the cast, storyline, theories and trailers for Gerard Way's Netflix comic book series.
Gerard Way's epic comic book series The Umbrella Academy is set to be adapted into a live-action TV show by Netflix and fans are already incredibly hyped. The Umbrella Academy will be dropping on Netflix at some point in 2019 with an all star cast including Ellen Page, Mary J Blige, Tom Hopper, Robert Sheehan and Kate Walsh - and it sounds amazing.
Upon it's official announcement back in July, Gerard spoke about how delighted he is by the news:
"I am thrilled that The Umbrella Academy has found a home at Netflix. I couldn't think of a better place for the vision (illustrator) Gabriel Ba and myself had when creating the comic, and cannot wait for people to experience that world as a live action show"
The latest news? We've just been given our first look at the cast in a brand new promotional poster for the show:
#UmbrellaAcademy says hello ... in 2019. pic.twitter.com/hDKakTbMsa

— See What's Next (@seewhatsnext) July 19, 2018
What is The Umbrella Academy season one about? Which characters are going to be involved in the series?

The story follows a "dysfunctional family of superheroes" made up of Spaceboy (Luther Hargreeves), The Kraken (Diego Hargreeves), The Rumour (Allison Hargreeves), The Seance (Klaus Hargreeves), The Horror (Ben Hargreeves), The Boy, The White Violin (Vanya Hargreeves) and Doctor Pogo, as they reunite to try and solve the mystery of their adoptive father's death.
They are aided by a police officer named Inspector Lupo in their mission and their now deceased father is known as The Monocle (Sir Reginald Hargreeves). The central villain of the story is called The Conductor. It has been in development for the screen since 2015, originally as a movie before being picked up by the streaming service. Season one will likely be based on the events of the first volume of the comic series entiteld Apocalypse Suite.
Who is in the cast of The Umbrella Academy?
Ellen Page, who will play Vanya.
X-Men and Juno actress Ellen Page became the first official castmember to be announced, playing the role of Vanya/The White Violin who is the "black sheep of the family" and is ultimately corrupted by The Conductor.
Tom Hopper, who will play Luther.
Game Of Thrones star Hopper will play Luther, "who was groomed by his father from an early age to be the leader of The Umbrella Academy – a responsibility that has always weighed heavily on him. He is resilient, a workaholic, and possesses the ability of heightened physical strength. Upstanding to a fault, Luther always tries to do the right thing, even if that means putting others before himself."
Emmy Raver-Lampman, who will play Allison.
Previously seen in Hamilton, Raver-Lampman plays Allison, "a beautiful, elegant, and a formerly world-famous movie star who possesses the power of suggestion – anything she says aloud comes to pass. Her life seems perfect from the outside, but her ability has undermined every relationship she's ever had. With her career on the decline and her marriage in shambles, she refuses to use her power as she seeks a more authentic life".
David Castañeda, who will play Diego.
Soon to be seen in the Billy Crystal/Ben Schwartz comedy, We Are Unsatisfied, David portrays Diego, "a skilled, intense vigilante who has a real problem with authority. He isn't as naturally strong or smart as his siblings, so he's worked three times as hard for everything. Believing he should have been the leader of his family instead of his brother, he carries a massive chip on his shoulder that makes him hostile to just about everyone."
Aidan Gallagher, who will play Number Five.
A star of Nickelodeon's Nicky, Ricky, Dicky & Dawn, Gallgher plays Number Five who "appears to be a thirteen year old boy, but in actuality he is a fifty-eight-year-old man trapped in the body of a child. He doesn't suffer fools and is the smartest person in the room. He's haunted by the things he's seen and done, and is on the verge of losing his grip on reality."
Robert Sheehan, who will play Klaus.
Robert Sheehan of Misfits fame plays Klaus, "a drug addict and lovable mess of a human being and yet, if you ask him, any day now his life is going to turn around. He's a classic "middle child" – a disarming pleaser who is seemingly everyone's friend, but will rob you blind without thinking twice."
Mary J Blige, who will play Cha-Cha.
The R'N'B legend, and Academy Award-nominated actress for Netflix's Mudbound, has been confirmed for the role of Cha-Cha, "a ruthless and unorthodox hitwoman who travels through time to kill assigned targets. Even though she has a few gripes about the bureaucracy of her employers, this job is her life. She is sadistic, sociopathic, and her reputation precedes her." This will be her first ever regular role in a TV series and is reportedly a one-year long deal.

Also joining the cast as series regulars are: Cameron Britton (Mindhunter) as Hazel, "an infamously ruthless and efficient hit-man", Colm Feore (House of Cards) as Sir Reginald Hargreeves, "a world-renowned billionaire industrialist and eccentric inventor", Adam Godley (Breaking Bad) as Pogo, "a genetically engineered, tweed jacket-wearing, talking chimpanzee" and John Magaro (The Big Short) as Leonard Peabody, "a sweet Average Joe who begins to take music lessons from Vanya (Page) and sees something special in this constantly dismissed wallflower, giving her a confidence that she's never had before."
Ashley Madekwe (Revenge) will have a recurring role portraying Detective Patch, "a driven, fast riser within the police department focused on solving a string of crimes in the city" alongside Kate Walsh (Grey's Anatomy, 13 Reasons Why) as The Handler.
When will The Umbrella Academy be released on Netflix?
The series has been scheduled for release on Netflix in 2019. There's currently no details on the exact date of the release but seeing as filming began at the beginning of 2018, we could be looking at a March release date.
How many episodes of The Umbrella Academy season one will there be?
The first season will feature 10 episodes.
Who is the writer and director of The Umbrella Academy TV series?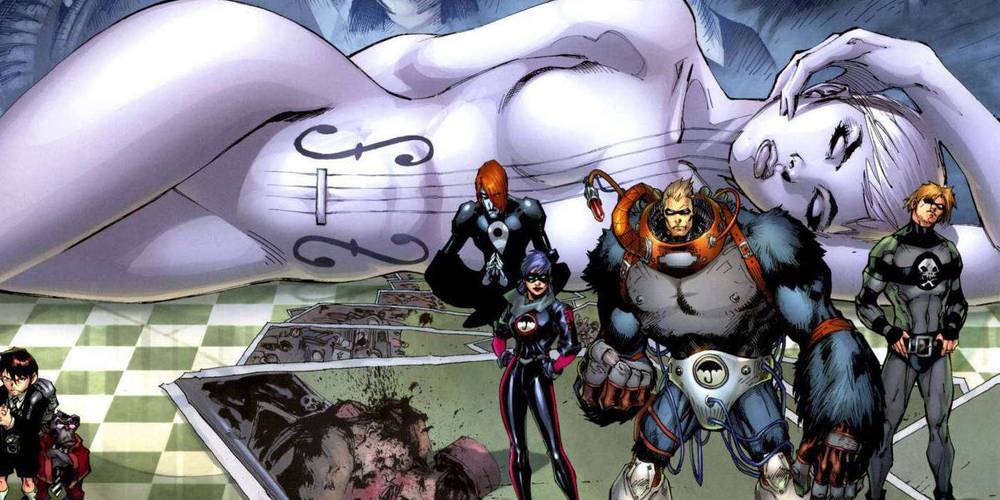 Dark Horse Comics
Jeremy Slater (The Exorcist TV series) has written the pilot episode while Steve Blackman (Fargo on FX) will act as showrunner for the overall series. No director has currently been announced.
Will Gerard Way be involved in the production of The Umbrella Academy TV series?
Gerard Way is a co-exec producer on the series. PopBuzz asked him recently about how much involvement he will have in the final production:
PB: Congratulations on The Umbrella Academy Netflix news. You're credited as an executive producer so will you be quite actively involved or are you happier letting the director and his team take the lead?
GW: I think we're still figuring that out. Everything's happening very organically and it's really happening at kind of a rapid rate and there's a lot of moving pieces. For the most part though, I'm letting them steer. I'm adding input when it's needed.
Way also recently hinted on Instagram (March 10th) that he could end up composing some new music to be used in the series:
"It is far too early to have any kind of idea when new music will be coming out from me, or what it will be specifically. Would it be a solo record? A new band? Songs for the Netflix 'Umbrella Academy' show? Something else? Again, too early to tell, but the process has started and happens every Friday at the moment. I'm in the discovery phase, and very excited about that. I'm off to make some sounds— see you soon!"
Have they started filming The Umbrella Academy season one yet?
Filming will take place in Toronto from January to July 2018.
Gerard shared this beautiful illustration by Fabio Moon of the cast and crew sitting down to the first table read of the script:
Are there any on-set photos from the filming of The Umbrella Academy season one?
Gerard Way recently shared this sneaky shot from the first day on set (January 16th), featuring what looks like a brand new logo for the series:
Very snazzy!
Plus, the comic's artist Gabriel Bá posted this snap of him and Gerard getting ready for filming:
Lights! Camera! ACTION!
This has officially begun!#UmbrellaAcademy #firstday #Netflix #UCP #wondertwinsumbrellaadventure pic.twitter.com/NrXjUij71L

— Gabriel Bá (@Gabriel_Ba) January 15, 2018
When will the trailer for The Umbrella Academy be released?
Rumours online would suggest that we will get our first look at the series during San Diego Comic Con which takes place in late July, 2018.
We will regularly update this piece with more information as it becomes available.