A Tina & Amy TV Show? Our Bodies Are Ready!
18 November 2015, 12:29 | Updated: 8 May 2017, 17:09
Give the people what they want!
I was absent-mindedly scrolling through my timeline last night when I saw a picture of the two most flawless females known to the human race, aka Tina Fey and Amy Poehler.
As I started reading the tweet, a very loud 'YAASS' almost escaped my lips and tears of joy may have threatened to burst from my eyeballs. No joke, I almost fangirl cried on a commuter train.
Tina Fey and Amy Poehler will co-host #SNL on Dec. 19: https://t.co/T0kSOgizi9 pic.twitter.com/gs6NVS5N46

— Entertainment Weekly (@EW) November 17, 2015
THEY'RE BACK! HOSTING SNL! OMG! If you've never been THAT excited about two people hosting a TV show together, then I can only liken it to when your parents bought you something for Christmas as a kid that you always wanted but didn't put on your list to Santa. That's the level of excitement I reached when I saw this news.
I spent the rest of the journey home wondering why we have yet to be blessed with a full on TV series. Together, they've given us the iconic movie Baby Mama and are set to deliver Sisters in time for Christmas but seriously, where is the TV Show?! Surely it would be the greatest show in existence? Produced by our Lord and Saviour Lorne Michaels, it will have 6 glorious seasons and flawless supporting cast that we probably wouldn't even bat an eyelid at anyway because TINA AND AMY.
Their success in their own TV backyard speaks for itself. I mean, 30 Rock and Parks got 497* Emmy nominations between them (*that might be an exaggeration but whatevs...) Can you imagine the kind of global domination the two could reach if they joined forces?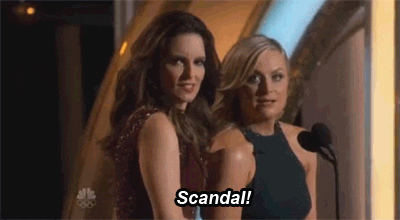 And in January, this will be the very last Golden Globe nomination that Amy Poehler will be eligible for for her work on Parks & Recreation. Who knows how long we'll have to wait before they're both nominated in the same category again? Yeah yeah yeah, 'Writing Categories' I hear you cry... BUT IT'S JUST NOT THE SAME.
Tina has already gone on record saying that the married couple of 20 years are not ready for that kind of commitment. But I've chosen to ignore that irrelevant piece of information because it's absolute garbage.
She and I haven't really talked about this, but I don't know if we could ever do a series together. We're both alphas who like to do our own thing and then meet up occasionally.

Tina Fey, Dream Destroyer.
Listen TF, Weekend Update was a weekly 10 minute show in itself. Just double it and call it a sitcom, you commitment-phobes! Is this TV marriage not worth fighting for?
If they're in need of some ideas, I am here to help...
I'm imagining a 24 type show, where we watch heightened versions of the pair prank a celebrity every hour on the hour. Or a couple of crazy aunts enriching the lives of Beverly Hills teens with advice and fine wines. TBH, it could honestly be a 24 minute mockumentary of them sitting in a writers room, doing absolutely nothing. The world would watch it.
So have a think about it and get back to us. Now is the time to blind us with your Smart Girls female empowerment special powers. We want Parks & Rock, and we want it now!
But first, let us bask in your comedy genius. December 19th. NBC. Mark your calendars.