Tom Holland Made An Awkward Comment To An Interviewer In South Korea And People Have Mixed Feelings
19 July 2017, 16:51 | Updated: 19 July 2017, 19:16
It looks like Tom's innocent comment has annoyed a LOT of people.
The absolute Spider-boi Tom Holland has seemingly found himself in a little bit of hot water over a comment he made to an interviewer in South Korea last week and the internet has mixed feelings about it.
During the press tour for his brand new (and absolutely INCREDIBLE) movie Spiderman: Homecoming, Tom visited a bunch of countries all over the world. He was most recently in South Korea doing bits with his co-star Jacob Batalon. During one of the interviews, he made a comment about the interviewer's (K-Pop singer-songwriter Eric Nam) English speaking skills.
Tom told Eric, who had been interviewing him in English and then translating the conversation into Korean, "You speak great English, though, man. How did you learn English?" Eric then said that he was actually American and he learned Korean when he arrived in South Korea as opposed to the other way around.
You can hear the comment at the 12:50 mark.
The question then prompted many Korean fans who were watching the chat live on Facebook to brand Tom 'insensitive' and even 'racist', which reportedly managed to start trending on Twitter soon after the interview. In fact, his comment managed to annoy quite a few people on the internet who interpreted it as ignorance.
tom holland turned out to be racist(or at least insensitive) towards my race but whatever i've learned not to expect much from white males

— rina (@enchxntedhowell) July 15, 2017
for fuck's sake, the fact that he asked eric where he learned english-immediately assuming that an asian couldn't be a native speaker

— rina (@enchxntedhowell) July 17, 2017
To be fair, it's an incredibly important point to bring up. For many Asian-Americans, or even any American who has a mixed heritage for that matter, the assumption that you're not "American" because you're not white and can speak a different language fluently can be understandably frustrating and infuriating.
But many people also jumped to Tom's defence on the issue, pointing out that the interview itself was being carried out in South Korea and there was almost no chance of Tom knowing that Eric was actually born in America, considering he was translating the interview in fluent Korean too.
I still don't get why Tom Holland gets hate, Eric interviewed him in Korea, it's normal assume him to be a Korean and not American Korean

— 샤이니의토끼 - semi hiatus (@Tokki_the_MVP) July 18, 2017
Tom Holland went to a foreign country where English is not a commonly spoken language + he doesn't know Eric Nam was born in America

— 〰 (@cramoisied) July 15, 2017
it's not racism at all the interview was literally in korea and tom holland probably didn't know that eric nam is from america

— ً (@hqyoongs) July 15, 2017
There's literally nothing wrong with Tom Holland asking Eric Nam, a korean, living in Korea, who speaks korean how he learned english? wtf

— JBJ (@rkmeow) July 17, 2017
While it has raised a very important point about the issue as a whole, the majority seem to agree that Tom wasn't being racist and if he did come across as ignorant, that it certainly wasn't intentional in any way. But it's always important to remember that while some people may accept comments like that as a compliment, other people may actually find them offensive.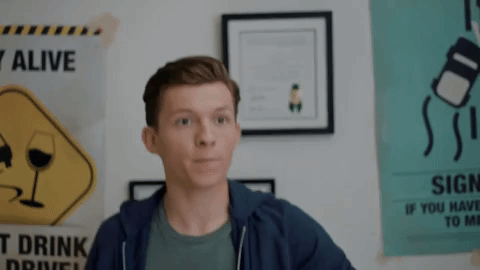 via giphy.com