Here's Why People Are Freaking Out About The Last Night's WWE
10 November 2015, 17:55 | Updated: 8 May 2017, 17:09
Really, we believe in you.
Confession time: we're kind of addicted to the WWE. It's not just TV, it's not just wrestling - it's a triumph of storytelling
Not just us? Whew. Then let's discuss last night's masterpiece, which gave us too many emotions
When the title fight was announced we were like: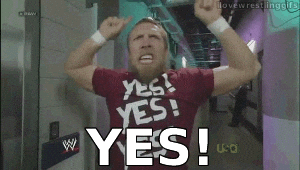 But first we had to get through ten solid minutes of Triple H being pure evil. Again.


Except he's now gone corporate, so it was more like...

But instead of announcing the fight, Triple H decided to go all sneaky on us and offer Roman Reigns the championship.

And it did not go down well with the crowd.


We could all see through Triple H's trickery.


THIS IS WHAT HE DOES.
But then Roman showed us all why he is the people's hero and REFUSED.
He may have lost the championship, but he won our hearts. We salute you, Sir.

And to Triple H we say:

It's OK, dude, we still love you.