Stephenie Meyer reveals plans for two more Twilight books
8 February 2023, 11:59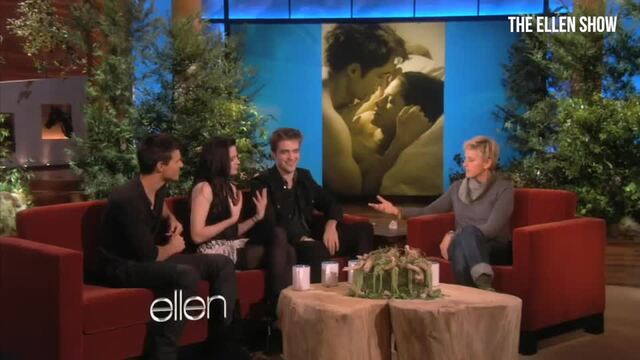 Robert Pattinson and Kristen Stewart open up about filming "steamy" Twilight sex scene
Two more Twilight books? It feels like the '00s all over again.
Twihards, get ready...because the saga is not over yet. Twilight author Stephenie Meyer has now revealed that she has plans to release two more books that take place within the universe.
The exciting news comes after Midnight Sun (the Edward Cullen-centric retelling of the first novel) managed to sell 1 million copies in its first week of release in the UK and the US.
Meyer finally released Midnight Sun in 2020 after delaying it for years following a leak back in 2008.
Despite telling Variety in 2013 that she was "so over" the series because it was "not a happy place to be", it seems like Meyer is now ready to explore a few more stories outside of Bella Swan's head.
READ MORE: The Robert Pattinson memes about Twilight's Midnight Sun are out of control
During an online live event for Books-A-Million, Meyer told fans that she has plans to release two more Twilight books.
"There are two more books I think in the world that I want to write," she said. "I have got them outlined and a chapter written I think of the first one, so I know it's there. I am not ready to do that right now, I want to do something brand new."
However, those books will not be from Edward's perspective. Meyer recently confirmed to The New York Times that Midnight Sun was a one off and she has no plans to revisit the series through his eyes.
"This is it for Edward. Writing from his point of view makes me extra anxious," she explained. "And the experience of writing this book was not a super pleasant one. So no, I wouldn't want to do that – especially given that 'New Moon' would just be a nightmare of depression and emptiness."
The news will no doubt be very exciting for fans of the series, particularly after Meyer previously said that the only new Twilight book she'd consider writing is "three paragraphs on my blog saying which of the characters died".
But anyway, here we are. Midnight Sun in our hands, and two more Twilight books possibly on the way. It feels like the '00s all over again.
What characters would you like to see return in the next Twilight book?
Play along with our Twilight quizzes here:
Lockwood & Co. Cast Interview Each Other | PopBuzz Meets